Oil Exploration Expands in U.S. With Benchmark Crude Reaching $75
(Bloomberg) -- Oil explorers deployed more rigs in the U.S. this week as crude prices breached $75 per barrel for the first time since 2014.
U.S. working oil rigs rose by five this week to 863, halting two straight weeks of declines, according to data from Baker Hughes.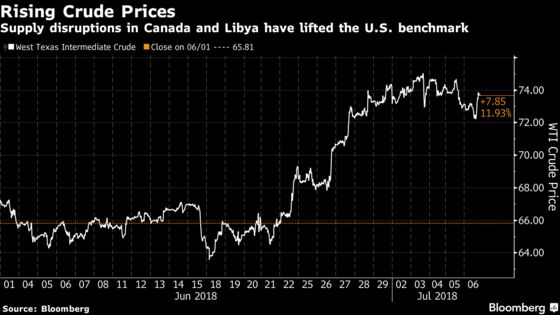 Shale fields in the Southwest and Great Plains accounted for most of the increase. In the Bakken region of North Dakota, the tally rose by three to 57, while the Permian and Eagle Ford fields each added a single rig, according to Baker Hughes. The Permian, with 55 percent of all the active crude rigs in the country, is the busiest American field.
Oil prices rose above $75 a barrel in New York earlier this week amid signs that plans by the Organization of Petroleum Exporting Countries and other major producers to increase supplies may not be sufficient to override output disruptions in Iran and Venezuela.
American drillers have been pumping a record 10.9 million barrels a day since the first week of June, according to the Energy Information Administration.