Charm Offensive by Mexico's AMLO Sends Peso on a Relief Rally
(Bloomberg) -- The next Mexican president's outreach to financial markets is playing out pretty well so far, at least judging by the peso's world-beating 3.9 percent post-election rally.
The peso's rally since Sunday's election shows that markets are rewarding Andres Manuel Lopez Obrador, known as AMLO, and his team for their efforts to calm investor anxiety after the populist swept to power with more than half the vote.
In his victory speech and after a meeting with and outgoing President Enrique Pena Nieto, Lopez Obrador and his team have pushed the business-friendly image hard. His pick for finance minister, Carlos Urzua, has been particularly outspoken, reassuring investors that the country's 2019 budget will remain under control and the central bank's independence will be respected.
"The general outline provided by Carlos Urzua, Lopez Obrador's choice for finance minister, has been very well accepted by market participants," RBC Capital Markets analyst Tania Escobedo Jacob wrote in a note. It's "decreased significantly the risk or perception of a radical shift in the management of the Mexican economy."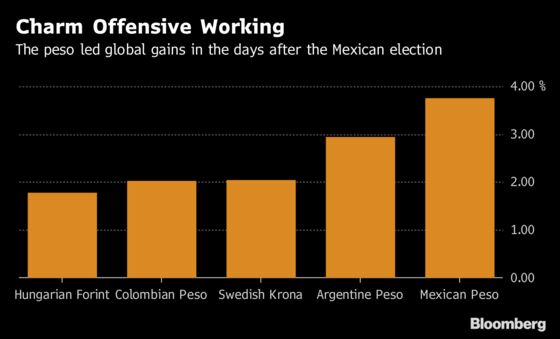 Olga Sanchez Cordero, a former supreme court justice who is Lopez Obrador's pick for Interior Minister, joined the chorus in an interview with Radio Formula. She promised strict and rigorous examinations for judges and budget protections for the judiciary to preserve independence and the rule of law.
Alfonso Romo, the incoming chief of staff, said in an interview that Lopez Obrador won't roll back a program that opened the nation's oil industry to private investment. He also said the new president will loosen banking regulation and allow more flexible investments for pension funds. Jesus Seade, a former top economist at the World Bank who has been drafted to lead North American Free Trade Agreement negotiations, has signaled his support for the trade deal -- and for free trade in general.
Granted, a positive external environment has played a part. Then too, a post-election relief rally isn't completely surprising, and some analysts worry that it may not last.
"The conciliatory tone from AMLO has really helped," said Erik Nelson, an analyst at Wells Fargo in New York. "I'm a little skeptical of the longer term. You have an avowed populist that's been elected. It's hard to see long-term outperformance for the peso."