AMLO Knows Peso Vigilantes Can Sink His Agenda, Aide Says
(Bloomberg) -- Andres Manuel Lopez Obrador's right-hand man has a message for investors fretting over the president-elect's leftist vision for Mexico: Relax, he's not going to try anything too crazy.
Since Lopez Obrador's victory on July 1, transition chief Alfonso Romo has had the unenviable task of dispelling Wall Street's worst fears about the leftist, and the policies he may pursue, after the landslide win helped his party secure large majorities in both houses of Congress.
To that end, the 67-year-old entrepreneur, who owns a brokerage as well as several other businesses in Mexico, says he's met with roughly 500 investment firms, preaching moderation and trying to reassure doubters that the man known as AMLO gets it when it comes to the financial markets -- and understands he can ill-afford to scare off foreign investors.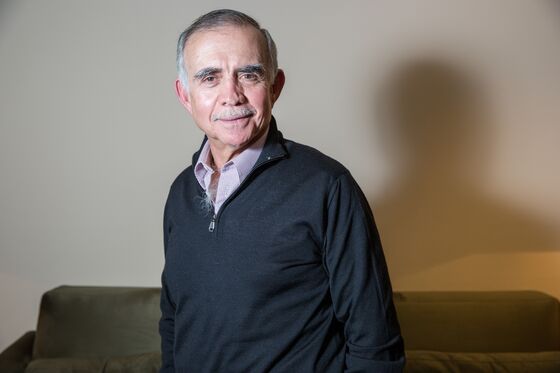 "Markets, in my opinion, are more powerful than political parties," Romo, who will be Lopez Obrador's chief of staff, said in an interview with Bloomberg. Keeping Mexico's fiscal house in order will be key, particularly as U.S. interest rates are poised to rise, he said.
The stakes are high. For starters, roughly 60 percent of Mexico's peso-denominated long-term government debt is held by foreigners such as Pimco and Franklin Templeton, and Lopez Obrador will likely need their buy-in to help finance some of his campaign promises. And then there's the peso, which took a beating in the months leading up to the vote as Lopez Obrador solidified his lead in the polls.
Since his election, Lopez Obrador himself has struck a conciliatory tone with the business community. In recent days, he also sat down with President Enrique Pena Nieto and the nation's largest chamber of commerce.
One influential Mexican businessman recently reflected on AMLO's landslide and expressed cautious optimism after the left-wing leader's speech at the Hilton hotel two nights earlier. However, he still worried that with the opposition in tatters, the financial markets will be the only thing left to keep his administration in check.
The thinking goes that if AMLO starts to boost spending significantly on the elderly, poor and unemployed youth as he's promised in the past, investors will respond by dumping the currency and ratcheting up borrowing costs. That could all lead to a credit downgrade.
Romo said Lopez Obrador is keenly aware of the risks, and has taken to heart the need to keep investors on his side. To underscore the administration's bona fides, Romo shared a piece of advice he gave Lopez Obrador toward the end of the campaign and continues to push today.
"I said, 'Look, we don't need to look at the opinion polls. We need to focus on the peso."'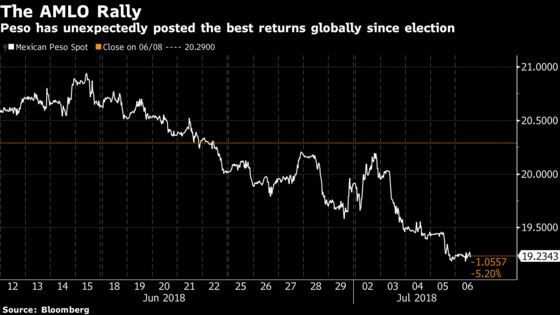 Of course, it's impossible to know whether all the talking points about fiscal responsibility and the need to listen to financial markets are just lip service.
After all, Lopez Obrador, who doesn't take office until December, could lean on other left-leaning parties to secure the few remaining votes he needs to reach a two-thirds super majority, which would give him broad powers to rewrite the constitution. AMLO also campaigned as an anti-establishment outsider who railed against "neoliberalism" and vowed in the past to roll back efforts to open up the oil industry. (For what it's worth, Romo has said Lopez Obrador won't use his congressional muscle to overhaul the landmark reform.)
For now, their soothing, post-election words have gotten the market's attention. The peso has rallied since the vote, making it the best-performing major currency by far in the past month. Meanwhile, the cost to protect Mexico's debt against default has tumbled. The peso extended a four-day advance, rallying more than 4 percent this week to 19.0626 per dollar.
Romo also reminded investors that there's good reason to think that Lopez Obrador will take a moderate approach when it comes to public spending.
"We don't have the money."