Thai Billionaire's Retail Unit Eyes China, India Expansion
(Bloomberg) -- Thai billionaire Dhanin Chearavanont's retail subsidiary CP All Pcl is considering an expansion of wholesale operations in China and India to tap the might of consumers in the world's most-populous nations.
CP All's Chief Financial Officer Kriengchai Boonpoapichart said the firm's cash-and-carry unit Siam Makro Pcl is studying opportunities in the two countries, as well as the possibility of setting up a store in Myanmar, having already opened an outlet in Cambodia.
"Siam Makro is on a new journey of expanding in overseas markets," Kriengchai said in an interview at his Bangkok office on Wednesday. "It will be a tough and challenging road, but it's a good opportunity with large populations to tap, compared with Thailand's mature market."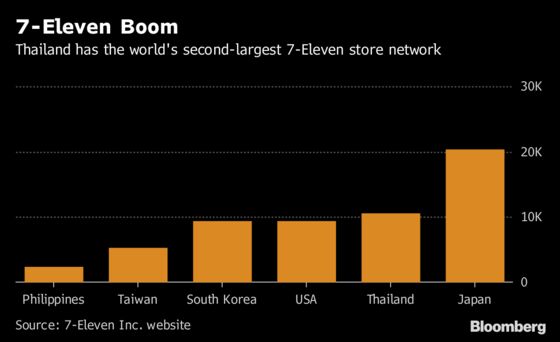 Thailand's billionaire business tycoons have stepped up acquisitions and investments abroad as an aging population and increased competition dim the long-term domestic growth outlook. Earlier this year, Siam Makro said it had set up LOTS Wholesale Solutions in India and planned to invest more than 10 billion rupees ($145 million) over five years.
Siam Makro intends to open its first store in India soon and a second outlet in Cambodia, according to Kriengchai. CP All acquired Siam Makro for about $6.1 billion in the country's biggest ever takeover.
"It's a risky and large investment for Siam Makro to expand into new foreign territory," said Sasikorn Charoensuwan, the head of research at Phillip Securities (Thailand) Pcl. "It will take some time to break even as economies of scale come when many more stores are opened."
Shares of CP All and Siam Makro have dropped less than 2 percent so far this year, while the benchmark SET Index has slid about 9 percent.
Dhanin, whose investments include telecommunication, agriculture and insurance businesses in Thailand, China and other countries, has net worth of $4.2 billion, according to Bloomberg Billionaires Index.
CP All operates more than 10,000 7-Eleven stores in Thailand, the most outlets after Japan, according to 7-Eleven Inc.'s website.
The company plans to spend about 9 billion baht ($271 million) a year to open at least 700 new 7-Eleven stores, said Kriengchai. It will stock shelves with more health and beauty items as income growth is leading to greater demand for such products, he said.
Most of the new 7-Eleven stores will be standalone outlets offering more space for products such as medicines and food items including coffee, part of a strategy to encourage more spending, said Kriengchai.
The company is also promoting digital platforms, such as mobile phone applications, to satisfy changing consumer behavior, he said.
CP All is dominant in its retail sector and there remains room for the company to add more outlets, Sasikorn from Phillip Securities said.