Reliance JioGigaFiber Threatens Broadband Disruption in India
(Bloomberg) -- Stocks of Indian broadband and cable television service providers tumbled after Reliance Industries Ltd. Chairman Mukesh Ambani announced plans to launch fiber-based broadband services.
India's second-largest company by market value plans to roll-out Internet connectivity to homes, merchants and businesses of all sizes simultaneously across 1,100 cities, Ambani said on Thursday. He invited registrations from Aug. 15, saying demand will help the company prioritize where to offer its services. JioGigaFiber will come with routers and a set-top box for television.
Ambani's mobile-phone venture Reliance Jio Infocomm Ltd. has already upended India's telecom industry by sparking a price war, forcing rivals to merge or exit. The hydrocarbon-to-telecom giant has invested 2.5 trillion rupees ($36.3 billion) so far in creating digital infrastructure to provide mobile broadband connectivity, he said. Reliance is currently running beta trials of JioGigaFiber in several thousand homes.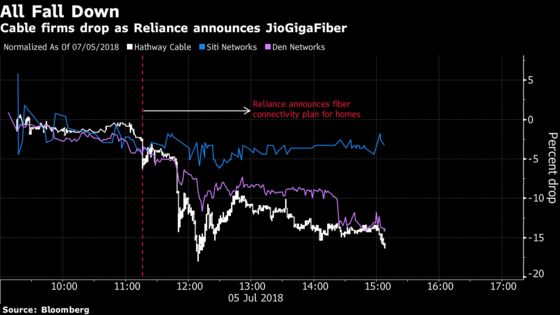 "Looking at the experience of Jio 4G launch and its impact on the telecom sector, the street is extrapolating the impact of today's launch on cable/broadband companies," said Amit Kumar, a Mumbai-based media and consumer goods analyst at Investec Ltd. "However, there are no details on pricing of TV+broadband and thus, it is difficult to take a call on potential impact."
Shares of Hathway Cable & Datacom Ltd. fell as much as 18 percent, Siti Networks Ltd. declined as much as 6.6 percent, and Den Networks Ltd. 15.3 percent.
While India has made strides in mobile broadband and is globally competitive, it still lags "significantly in fixed-line broadband," Ambani said. "JioGigaFiber will be the largest greenfield fixed-line broadband roll-out anywhere in the world."
With 4G, the difficulty was setting up the nationwide telecom back-end while with broadband services, the front-end -- including laying fiber to homes -- will require effort, Kumar said. The company has been running trials in the nation's financial capital Mumbai for the past two to three years, though their services are still not fully available across the city, he said.
"To what extent they will be available in these 1,100 cities, that remains to be seen," Kumar said.