Mobike to Refund User Deposits in Effort to Win Market Share
(Bloomberg) -- Mobike, one of the pioneers of China's bicycle-sharing craze, is scrapping a key part of its business by dropping the need for deposits amid fierce competition to win users.
Existing customers will get their deposits back as the company adds electric-bikes to its fleet in China and overseas, the Beijing-based company said in a statement Thursday. Mobike is making the moves as it fends off rivals backed by Alibaba Group Holding Ltd. and Ant Financial.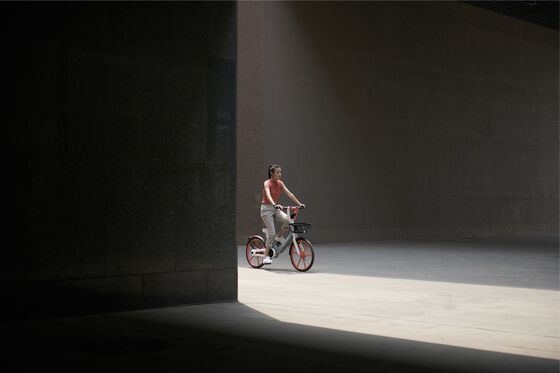 The changes come as Mobike is integrated into the platform of online services giant Meituan Dianping platform, which bought the startup for $3.4 billion in April. With more than 200 million registered users and a request that each pay a 299 yuan ($45) deposit, there has been speculation the company was sitting on billions of dollars worth of customer cash. Given promotions and waivers, the actual total that has been collected and will be returned is about 1 billion yuan, according to a person familiar with the matter who asked not to be identified.
Mobike decided to drop deposits across its business after tests in about 100 markets led to a significant boost in users. The refunds will be given back within two to seven days of being requested, it said. The electric-bikes have a top speed of 20 kilometers per hour and can travel about 70 kilometers after each charge.
China's bike wars kicked off about three years ago when Ofo, which is now backed by Alibaba, and Mobike began putting two-wheelers on streets across China. The dockless system, that lets them be dropped almost anywhere, proved popular and led to the emergence of rivals including HelloBike.
HelloBike saw a jump in market share after it successfully lured billionaire Jack Ma's Ant Financial as a backer. The company's Chief Financial Officer Chen Xiaodong said in June that it handled about 20 million rides per day. Mobike said it handles as many as 30 million rides a day.
Mobike on Thursday also unveiled a recycling program to offset the enormous growth of its fleet. It said it'd ensure that all parts of its bikes are re-used as either components of new vehicles or raw materials.
(An earlier version corrected the amount of the deposits to be refunded)