It's All Peace and Love Between AMLO and Mexico's Business Elite
(Bloomberg) -- Mexico's newly elected president and the businessmen who openly worried about him winning are calling a truce.
After writing letters that warned about electing a populist and talking to employees to sway their votes, the business community is changing its message.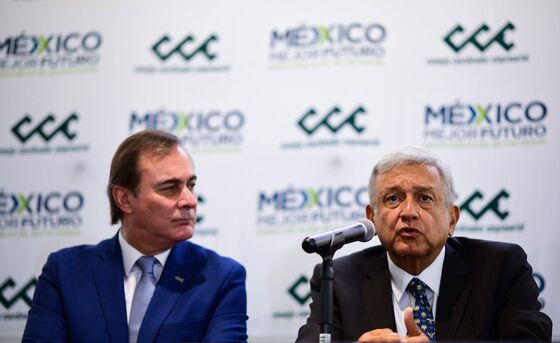 One of Andres Manuel Lopez Obrador's first meetings after winning the Sunday election was with Mexico's main business chamber, CCE. In new videos and letters, executives from some of the most important companies in the country congratulated the new president, who's known at AMLO, and promised to work with his new government.
"We trust the business sector and they've expressed their confidence in the new government that will transform the country," Lopez Obrador said at an all-smiles press conference after the meeting. Juan Pablo Castanon, head of the chamber, said the group vowed to jointly fund a program to aid unemployed youth, one of the core promises of Lopez Obrador's campaign.
In a two-minute video making the rounds on social media and WhatsApp chats, business leaders sat in front of a camera against a white backdrop and congratulated Lopez Obrador to the tune of an upbeat song, making pledges to continue investing in the country.
"Mexico voted for change and chose Andres Manuel as president," Alejandro Ramirez, chief executive officer of Cinepolis de Mexico SA, says in the video. "We businessmen recognize and respect his victory."
Added Eduardo Tricio, president at Grupo Industrial Lala SA: "We're offering our support to build the best solutions for our country."
During the campaign, Lopez Obrador said both Tricio and Ramirez were part of the "mafia of power," leading Ramirez to say businessmen were worried that someone who aspired to be president resorted to such divisive language. That tone is now gone.
"We all want the new government to do well because we want Mexico to do well," Fomento Economico Mexicano SAB Chairman Jose Antonio Fernandez says in the video. "Our democracy won."
Grupo Mexico's German Larrea, who had special reasons to worry about a Lopez Obrador presidency, also sent his regards in a letter.
"At Grupo Mexico, we'll double down our efforts and investments to, alongside your government, contribute to Mexico's growth," he wrote.
Rogelio Zambrano, chairman of Latin America's largest cement maker Cemex SAB, congratulated the president-elect and wished him well on the "new nation's project" that voters chose. So did Daniel Servitje, chairman at Grupo Bimbo SAB, who said in a statement, "It's time to leave behind the division created by the campaigns and join together to forge a country based on solidarity, justice and an efficient rule of law."