Deutsche Bank's Days on Euro Stoxx 50 Benchmark Look Numbered
(Bloomberg) -- The sell-off in Deutsche Bank AG, which drove the stock to a record low last month, is putting its 20-year membership of the Euro Stoxx 50 benchmark in peril.
Germany's biggest bank has lost more than 40 percent of its value this year after chalking up its third straight annual loss, replacing its chief executive and failing the first public stress test of its U.S. business. That's pushed it down to 61st in index provider Stoxx Ltd.'s most recent leaderboard, the lowest among the current constituents, which means Deutsche Bank would be first to exit the gauge when non-members that rank among the top 40 are automatically added in a Sept. 3 review. Four non-members currently meet that criteria.
"There's no chance that Deutsche Bank will survive the index re-balancing" in September, said Uwe Streich, an index analyst at Landesbank Baden-Wuerttemberg in Stuttgart. "Only if the shares jump dramatically, for example in a merger or takeover scenario, would the market value climb high enough to remain in the index."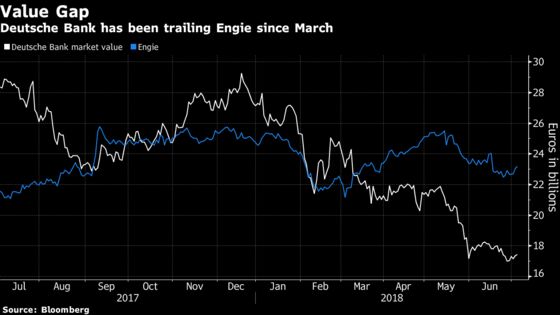 Spokesmen for Deutsche Bank and Stoxx declined to comment on scenarios for index inclusion for this story.
Going by Stoxx's most recent ranking, non-members Kering SA, Linde AG, UniCredit SpA and Amadeus IT Group SA would automatically replace the four current members with the lowest market value in the September review. As the lowest-ranked index constituent, Deutsche Bank would need to beat Engie SA -- a stock it has trailed since March -- to be assured of staying. That would mean making up almost 7 billion euros ($8.2 billion), or about 40 percent, in market value.
Expulsion would add yet more pressure to Deutsche Bank shares, the worst performer on the euro-area benchmark this year, with passive investors in particular forced to sell the stock as they realign portfolios to the new constituents. Exchange-traded funds with assets of more than 40 billion euros track the Euro Stoxx 50, data compiled by Bloomberg show.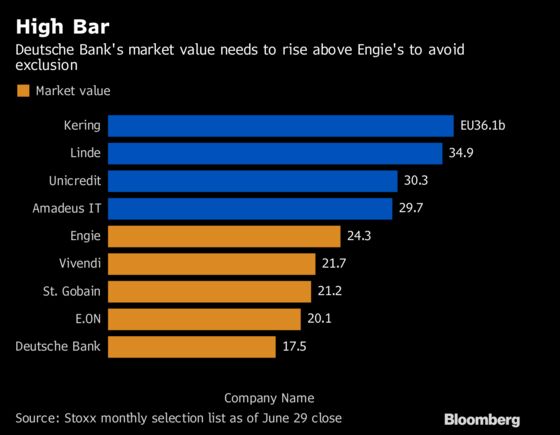 Deutsche Bank's current weighting of 0.75 percent in the gauge means about 33 million shares held by ETFs may hit the market in the course of the index re-balancing -- about 1.9-times the daily 3-month average trading volume, according to data compiled by Bloomberg.
Data collected by Streich since 2000 show that shares that left a benchmark index underperformed the respective gauge by an average 5.6 percent in the month before the announcement and another 3 percent in the time between announcement and implementation.
The impact on Deutsche Bank shares may be softened by the fact that a potential exit wouldn't come as a surprise, Streich said.
"Many active investors have enough time to anticipate and adjust their portfolios," he said. Passive index trackers on the other hand typically take action 24 hours to 48 hours prior to the changes taking effect, the index specialist said.