Kotak Retains Top Slot in Bumper Year for India Wealth Firms
(Bloomberg) -- India's wealth managers had a bumper year in 2017, with the 20 largest firms growing assets under management by 63 percent to $169 billion, according to a report by Asian Private Banker.
The wealth unit of Kotak Mahindra Bank Ltd. retained the top slot, nearly doubling assets to $30 billion in 2017 and extending its lead over runner-up IIFL Wealth Management Ltd. to almost $12 billion, the publication said.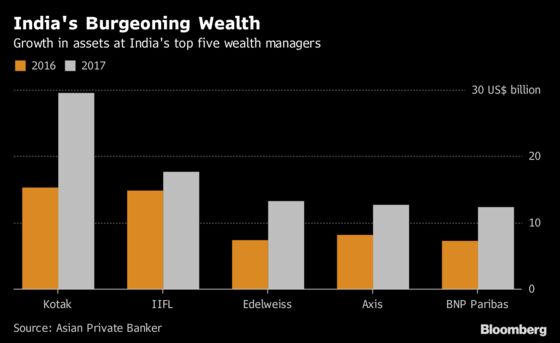 Domestic players dominate the Indian private banking scene, accounting for a 72 percent share of assets under management last year. The wealth unit of BNP Paribas SA, the only foreign firm to make it to the top five, saw its assets jump 70 percent to $12 billion.
India is the fastest-growing wealth market globally, with the number of high net worth individuals rising 20 percent in 2017 from a year earlier, according to a recent survey by Capgemini SE.