New Takeda HQ Flaunts Global Ambition Alongside Japan Roots
(Bloomberg) -- Embedded in the sleek metallic and cypress interior of Takeda Pharmaceutical Co.'s new global headquarters in Tokyo are stylized Japanese characters for words like life, water and light.
Melding futuristic design with traditional Japanese elements highlights the balancing act facing Chief Executive Officer Christophe Weber: showing he can honor the 237-year-old drugmaker's Japanese heritage as he tries to complete the biggest deal in Takeda's history -- the $62 billion takeover of Shire Plc.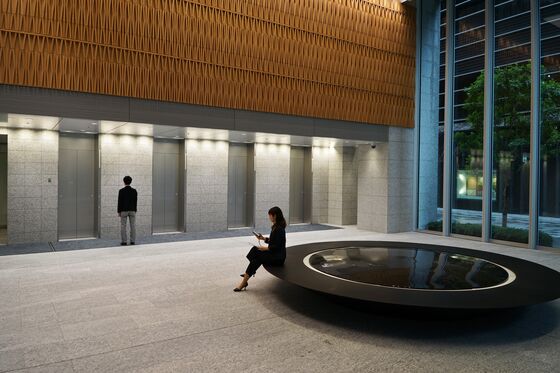 "He's very quick to say they're still a Japanese company, but at the same time making a point to say they're not Japanese because they have a very international, global executive team," said John W. Carlson, chair of the health-care committee at the American Chamber of Commerce in Japan. "They do have that dilemma."
Takeda officially opened its new Tokyo office building on Monday, two months after the company announced its agreement to buy Shire. The transaction will radically transform Takeda, making it the ninth largest global drugmaker by revenue. Its new office is nestled between local rivals Daiichi Sankyo Co. and Astellas Pharma Inc. in the capital's Nihonbashi district, where a historic Shinto shrine to the god of medicine has made it a popular spot for pharmaceutical businesses to set up shop.
"The design here has symbolism, like life and future -- it's a modern design leading to a Japanese root," Weber said in an interview in June. "People will think we are doing it because of Shire, of course. It's just by chance," he added, chuckling.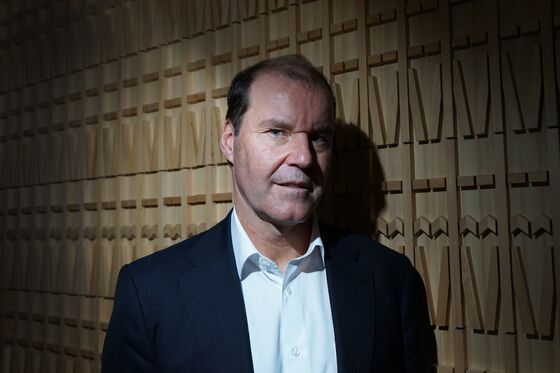 The timing of the building's unveiling is almost serendipitous, giving Weber ammunition to emphasize Takeda's dedication to Japan as he tries to convince shareholders at home and abroad that taking on Shire won't compromise Takeda's investment-grade rating or its dividend. The deal will go to a shareholder vote after Takeda obtains the necessary regulatory approvals.
The decision to acquire a company with a larger market value has drawn the ire of investors in risk-averse Japan over the debt Takeda will take on. While Takeda's stock has been climbing in recent weeks, it's still down about 19 percent since the company disclosed its interest in Shire. The shares lost 2.5 percent in Tokyo trading on Monday.
Weber has insisted the acquisition will speed Takeda's globalization, allowing it to survive in a more competitive environment. The company faces pricing pressures in Japan, a drying pipeline of drugs and rising research and development costs.
If Takeda is able to integrate Shire successfully, it will add a massive U.S. operation. Nearly half of the revenue of the combined company will come from the lucrative U.S., while sales from Japan will shrink to 19 percent of the total from 34 percent.
Takeda will remain based in Japan -- it's legally incorporated in Osaka -- even after absorbing Shire, which is headquartered in Ireland but does most of its business out of its Lexington, Massachusetts, offices. The old Tokyo building, which Takeda sold at a price Weber said was able to cover the cost of the new one, is only a 10-minute walk away.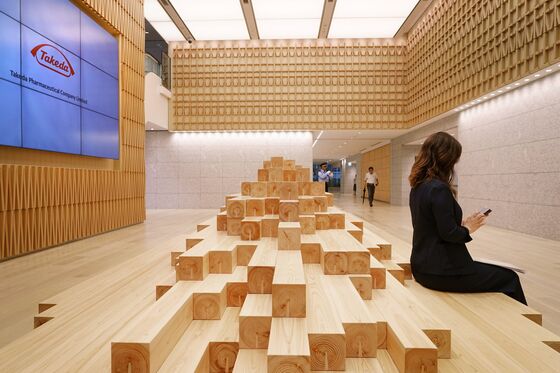 The interior of the 24-story building is coated in light hues, with walls of glass and Japanese cypress, and burnished lights. A series of eight Japanese characters make up the patterns printed on the cream carpet, jutting out of the wooden walls and cut into metal fixtures. Employees work in an open office layout on every floor with glass meeting rooms set in a corner.
The look is the work of designer Kashiwa Sato and his creative agency Samurai Inc., which has been responsible for branding other Japanese companies with a global presence, such as Fast Retailing Co.'s Uniqlo and Seven & i Holdings Co.'s 7-Eleven convenience store chain.
The office was signed off on before Weber took over in 2015 as Takeda's first foreign CEO, but the Frenchman still made his mark on its design. Weber said he got involved after an employee voiced concern that the new office may end up looking exactly like the old one, depriving the company of an opportunity to take a risk and project a more modern work environment. He brought in Sato and asked him for a look that would communicate Takeda's values.
"It's different from what you will find in the typical offices in Japan," Weber said. He gestures to the wood renditions of Japanese characters meaning "future" on the wall behind him, and then points to the stylized carve-out of the word "bond" on the metal lights.
"Everything has a meaning," he said.