South African Central Bank Calls for Capitec Fee Probe
(Bloomberg) -- South Africa's central bank asked the country's credit regulator to probe whether Capitec Bank Holdings Ltd. re-introduced a product criticized for its fee structure, an investigation that is ongoing, according to a person familiar with the matter.
The referral to the National Credit Regulator came after the issue about the so-called multi-loan product was raised in a report by short-seller Viceroy Research in January, said the person, asking not to be identified because the matter is private. Capitec Chief Financial Officer Andre du Plessis said he was unaware of the central bank's referral, or of an investigation by the Johannesburg-based NCR.
Capitec's shares dropped 4 percent by the close in Johannesburg, the most since March 28, to lead decliners on the six-member FTSE/JSE Africa Banks Index. That extended losses this year to 22 percent, making it the worst-performing South African lender.
"We're in a space now where anything with an uncertainty label on it gets absolutely crushed," said Ryan Woods, an equities trader at Independent Securities, referring to an emerging-market rout that has seen assets from shares to bonds hammered amid heightened concern over a global trade war.
In the January report, Viceroy said Capitec boosted its income by charging excessive fees on its multi-loan product, which carried a monthly charge for allowing a previously vetted customers to extend their facility by answering some questions.
While Capitec said it terminated the product in 2016 because rules introduced by the NCR meant it was no longer viable, Viceroy said that the lender rebranded it and that Capitec's methods risk leaving customers with too much debt.
Capitec said at the time that Viceroy did not understand the product or how its processes work. The NCR had previously probed the multi-loan facility and was satisfied with the fees and interest charged, Capitec said on Feb. 8.
Both the NCR and Pretoria-based South African Reserve Bank declined to comment.
The central bank monitors lenders for their compliance with rules ranging from their operations and capital levels to staffing and money laundering, with the ability to fine companies or revoke their licenses. The NCR can also administer financial penalties on lenders that violate the National Credit Act, legislation aimed at protecting consumers from taking on too much debt.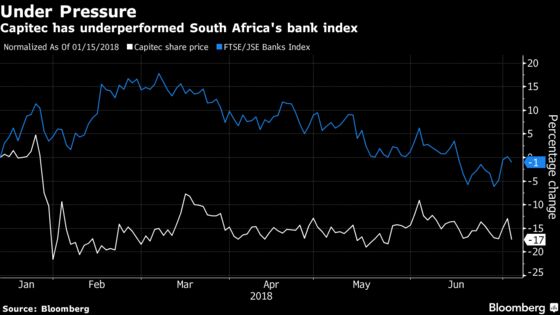 Officials from the central bank and the NCR told lawmakers in March that many of the allegations made by Viceroy were not new and that not all of them were accurate.
"The Reserve Bank is very active in doing ongoing reviews at all the banks," said Du Plessis, speaking more broadly on the regulator's oversight. "If anything bothers them, they actually contact us or ask that we report on something. That happens on an ongoing basis."
On Friday, Capitec announced it had reached an agreement with Summit Financial Partners, which was challenging the lender in court and before the NCR on behalf of six complainants. The cases, which mostly centered on Capitec's now defunct multi-loan facility, were withdrawn.
(An earlier version of this story was corrected by the source to remove reference to a letter.)