Nervy Second Half Awaits High-Yield Issuers in Europe
(Bloomberg) -- High-yield issuers in Europe are bracing for at least two jumbo bond deals as they grapple with an investor base increasingly willing to flex its muscles.
Supply totaled 37.7 billion-euros ($43.9 billion) across 84 deals in the first six months, 20 percent lower than the same period last year, as investors rejected clauses that eroded their rights and demanded higher yield. Large leveraged buyout deals for Thomson Reuters Financial & Risk unit and Akzo Nobel Chemicals NV will provide a further test of how the market evolves, with robust issuance expected into summer.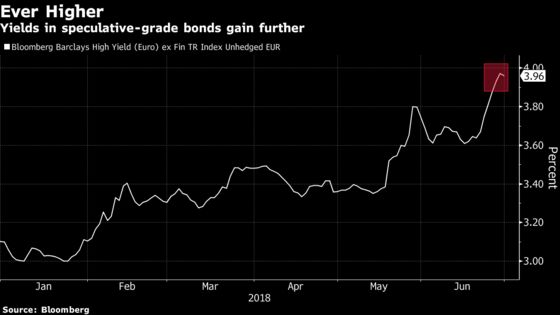 "The market has broadly seen a repricing of risk, driven by sustained volatility and the spate of recent new issuance," said Todd Rothman, a managing director for high yield and leveraged loan capital markets EMEA at JPMorgan Securities Plc. "The buyside still has cash to put to work, but they are discerning about the deals they will buy and they want to invest in specific credit and market risk."
"On the bond side, this has manifested itself in higher new issue premiums, " he said.
The drop in supply comes as investors prepare for a turn in the credit cycle with economic recovery in the region gathering pace, prompting the European Central Bank to announce an end to its bond buying program after December.
Second quarter issuance totaled 21 billion euros, down 2.3 percent over the same period last year.
What started as a trickle in early May has now become a steady stream. Last week, Synthomer Plc postponed its plan to sell 300 million euros of notes, boosting the number of deals that have been withdrawn or delayed this year to ten.
High-Yield Deals Withdrawn or Delayed This Year Rises to Ten
At the same time, the tug of war on documentation continues unabated with around 32 percent of deals altering terms to meet investors' demands this year - almost double the rate in the last six months of 2017, according to Covenant Review.
Spanish casino operator Cirsa and Danish telecoms group TDC A/S are recent examples of companies that gave in to investors' demand for better terms. In contrast, Energizer Holdings Inc. had a smooth run as it left enough on the table for investors right from the word go. Radisson Hotel Holding AB's offered elevated yield and more conservative documentation on its bonds sale last week to avert hiccups.
"The high-yield market has been more sensitive and investors have become much more selective, which has also been driven by negative returns," said Simon Francis, co-head of leveraged finance EMEA at Citigroup Inc. "But with recent deals we've seen that if you put enough of a price on it then it will get done. Premiums for double Bs for instance have risen from 25bps to 50bps this year."
The changing market dynamics is making some issuers hedge their risks. The banks that have underwritten the buyout financing for Thomson Reuters F&R made a rare move in syndicating the loan bridges to the bond portion of the debt package, in a bid to reduce their exposure to the credit.
Despite the growing resistance and barriers to issuing, JPMorgan's Rothman said some of those who postponed deals recently will either monitor the market for another window of opportunity or work on their credit profile and return with a better case for investors. He expects a handful of deals to come every week until the summer.
"Any company that is waiting for market conditions to improve in three or six months are fooling themselves," said Olivier Monnoyeur, a London-based high-yield portfolio manager at BNP Paribas Asset Management. "If there is a window, even if it's 50 basis points to 75 basis points higher, they should just bite the bullet as we don't see things getting easier".