Biotech Analyst Says Ignoring Wall Street Brings Bigger Payday
(Bloomberg) -- If you want to make money in biotech you are better off doing the opposite of what your sell side analyst tells you to do.
That's the conclusion Cowen & Co. senior research analyst Phil Nadeau came to after looking at four years of data on Nasdaq Biotech companies and their investment ratings. While Cowen found an inverse relationship between analysts' ratings and biotech performance since 2015, rating upgrades and downgrades were an even worse predictor of stock performance.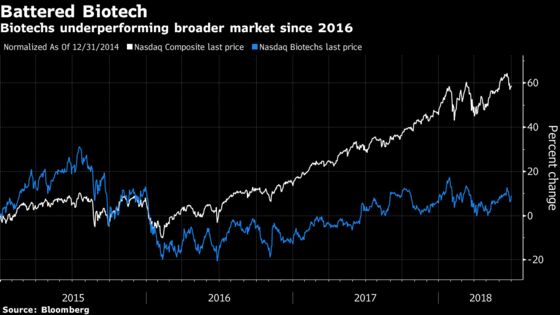 Whenever there was a change toward a strong buy rating on a company, the worse the prognosis for shares. Ratings trending toward a strong sell performed better. Equity analysts are also heavily weighted toward buy ratings and don't tend to change their views much despite market volatility and shifting investor sentiment, says Nadeau. Nadeau himself rates 35 companies -- with 27 of those buys, six holds and no sells -- according to Bloomberg data.
Where does all this leave investors?
"Unfortunately (for our job security and sense of self-worth)," Nadeau advises clients in a note that "a non-consensus investment strategy that goes against the consensus sell-side opinion could generate superior returns."