One of Hottest Hedge Funds in Korea Returns 14% as Stocks Slide
(Bloomberg) -- A hedge fund firm is causing a stir among investors in South Korea, delivering strong returns even as the stock market declines and attracting a flood of money.
Timefolio Asset Management has gained almost 14 percent this year in its main fund, which combines a long-short strategy focused on South Korean equities and alternative investments, Joosang Lee, a managing director at the firm, said in an interview in Seoul. The country's benchmark Kospi index is down 5.7 percent in 2018.
Wealthy investors have pumped some $1.3 billion into Timefolio's 11 hedge funds in two years, according to Lee, making it one of the fastest-growing hedge fund firms in the country.
Timefolio's main hedge fund manages 180 billion won ($161 million) and returned 13.8 percent so far in 2018, according to Lee. The fund has averaged a 5 percent return every six months since its inception in 2016, he said.
"This year, along with the long-short equity strategy, alternative investments such as pre-IPO or mezzanine posted high returns," Lee said, noting that the hedge fund prefers large-cap stocks as a way to keep returns more stable.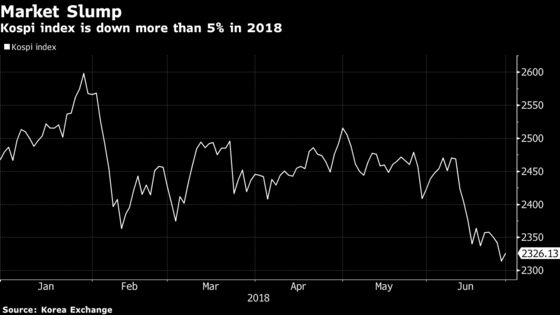 "Some of my clients can't wait to invest in Timefolio's funds," said Nam-su Kim, a private wealth manager at a branch of Samsung Securities Co. in Gangnam, one of the most affluent districts of Seoul. Lee says wealthy individuals account for about 80 percent of assets at his company's hedge funds.
South Korea's hedge fund industry has been rapidly expanding since the government relaxed regulations in 2015, but it's still small by global standards. Korean hedge funds oversee almost $18 billion, about triple the level in February 2017, according to Gilbert Choi, an analyst at NH Investment & Securities.
"Korean retail investors are increasingly seeking stable returns, as the Korean stock market has been fluctuating in recent years," Timefolio's Lee said. "We expect that kind of demand to continue with the country's interest rates remaining low."
Timefolio has no head of equities, and gives as much decision-making authority as possible to its 16 fund managers, according to Lee. More than half of them are graduates of Seoul National University, South Korea's Harvard. The firm plans to open a branch in Singapore this year, Lee said.
"I think they are good at making mid-sized returns with medium risk," Jae-sung Park, chief investment officer of Trinity Asset Management, a hedge fund firm running $600 million in Seoul, said of Timefolio. "They are not that aggressive in strategy and seem to have been good at making stable returns so far."