Global Trade Risks Cloud Vietnam's Outlook as GDP Grows 6.8%
(Bloomberg) -- Vietnam's economy posted steady growth in the second quarter with the help of solid foreign investment and exports, but risks are mounting with the prospect of a global trade war.
Highlights of GDP report
Gross domestic product rose 6.8 percent in the second quarter from a year earlier, compared with a revised 7.5 percent in the previous three months, the General Statistics Office said in Hanoi on Friday
The economy expanded 7.1 percent in the six months through June compared with a year earlier
Export-reliant Vietnam is trying to sustain its stellar economic performance in the face of global trade protectionist moves and rising U.S. interest rates. Prime Minister Nguyen Xuan Phuc requested ministries in May to increase their monitoring of international markets and to take suitable and timely action to minimize any negative effects.
Growth eased in the second quarter from the prior three months due to reduced mining output and slowing state investments, Nguyen Bich Lam, head of the General Statistics Office, told reporters in Hanoi. The government will increase measures to boost businesses as economic expansion may slow in the second half of the year, Lam said.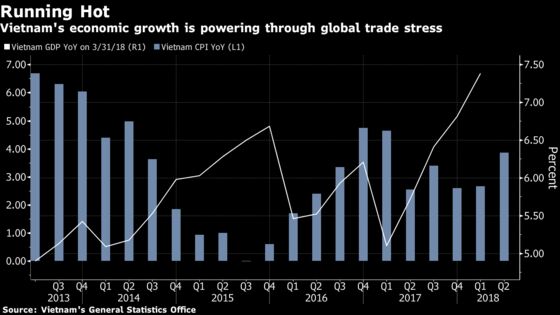 "Medium term prospects of Vietnam's economy are good, but the global context is uncertain," Victoria Kwakwa, the World Bank's vice president for East Asia and Pacific, said earlier this week. "The uncertainty in the global context is an area of risk" for Vietnam, being an export-driven and open economy, she said.
Fitch Ratings, which upgraded Vietnam's credit score to BB in May, expects some slowdown in the economy in the rest of the year, amid a pick-up in trade risks and a possible easing in China's growth.
Vietnam is one of a handful of economies in Asia, including China, India and the Philippines, which are still growing more than 6 percent a year.
Exports increased 16 percent in the first six months from a year ago
Industrial production rose 12.3 percent in June from a year earlier
Mining output dropped 3.6 percent in June and 1.3 percent in the first half
Consumer prices rose 4.7 percent in June from year earlier. The government aims to cap average price gains at 4 percent this year