U.K. Finance Loses Its Most Senior Woman CEO
(Bloomberg) -- Lloyd's of London Chief Executive Officer Inga Beale will leave in 2019 after five years at the helm of the world's oldest and biggest insurance market.
A successor has yet to be found for Beale, who was known for expanding digitization at the company and promoting diversity, Lloyd's said in a statement on Friday.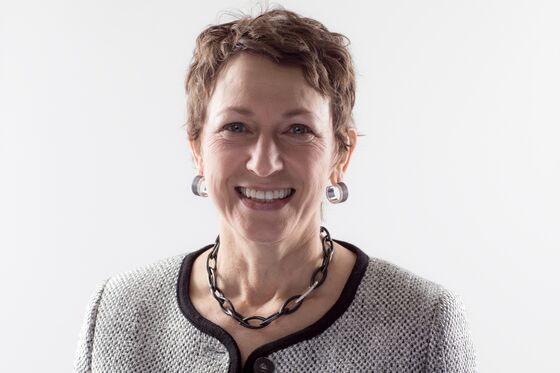 Beale "has set in motion a series of changes aimed at modernizing the market and making it more efficient and inclusive," said Chairman Bruce Carnegie-Brown, who has been in his role for a year.
The 330-year-old market suffered a loss for the first time in six years in 2017, amounting to 2 billion pounds ($2.6 billion) and driven by a series of natural-catastrophe claims. The company said it was planning to cut 10 percent of its staff in the U.K. as it looked to streamline operations and reduce costs amid continued pricing pressure on members.
Insurance Insider reported Beale's departure earlier.
Beale took up her post in January 2014 and oversaw a program to modernize the company and cut costs by speeding up the adoption of electronic placement of underwriter risks. She warned in the annual report of 2017 that the digitization wasn't happening fast enough.
She also sought to improve diversity, both in the insurance market as a whole and in the company, which reported a 2017 gender pay gap of 28 percent. Beale was paid 1.3 million pounds last year, according to the annual report.
Beale is an insurance-industry veteran and started her career at Prudential Plc, before working at GE Insurance Solutions and Zurich Insurance Group AG and becoming group CEO of Swiss reinsurer Converium. An advocate of LGBT rights, she was awarded a damehood in 2017 for her services to industry and the economy and advises the U.K. and London governments on business matters.
Beale's successor, when one is found, will have to face a business challenge like never before: Britain's departure from the European Union.
The Lloyd's chief told Bloomberg Television in March that insurance contracts across Europe will remain at risk unless there's an agreement on how they should be treated in a post-Brexit Europe. She added that much of the insurance activity that currently takes place in London will continue to take place in the city.
Read more about how insurance contracts could be affected by Brexit