MUFG-Morgan Stanley Venture Accused of Futures Manipulation
(Bloomberg) -- Mitsubishi UFJ Financial Group Inc.'s joint venture with Morgan Stanley faces a 218 million yen ($2 million) fine for allegedly manipulating prices in the Japanese government bond futures market.
Mitsubishi UFJ Morgan Stanley Securities Co. placed orders for 10-year bond futures contracts last August without intending to execute them, the Securities and Exchange Surveillance Commission said in a statement on Friday. It recommended that the Financial Services Agency impose the fine.
An employee of the firm placed a large amount of buy orders at the best bid price and below, as well as sell orders at the best offer price and above, on the Osaka Exchange, according to the SESC. The orders "would mislead other investors into believing that market transactions of derivatives were thriving" and cause fluctuations in the 10-year JGB futures market, the SESC said.
"We apologize for causing trouble to market participants and our clients for conduct that harmed the fairness and transparency of the market," spokesman Hiroaki Konishi said by phone. He said the firm may penalize the bond dealer suspected of placing the orders.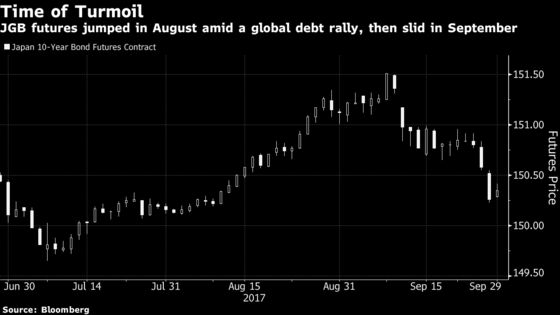 Japanese government bonds rallied last August as geopolitical concerns around North Korea spurred haven demand and investors pared expectations on the pace of policy tightening by major central banks. The benchmark 10-year yield dropped to near zero by the end of August, and futures prices surged, prompting the Bank of Japan to lower the range of its planned bond purchases for September for the first time in four months.
The SESC's recommendation comes less than two years after another joint venture between Japan's biggest bank and the Wall Street firm was penalized for similar action in the equity market. Morgan Stanley MUFG Securities Co., majority-owned by the U.S. firm, was fined 220 million yen in December 2016 for manipulating trading of Seibu Holdings Inc. shares.