Gold Has Miserable Month as Dollar Seen as 'First Choice' Haven
(Bloomberg) -- Gold's losses in June, driven by an ascendant dollar, have put the precious metal on course for its biggest monthly drop since November 2016, when markets were roiled by Donald Trump's victory in the U.S. election.
The metal dropped 3.6 percent this month, while a gauge of the greenback is up for a third straight month amid escalating global trade tensions.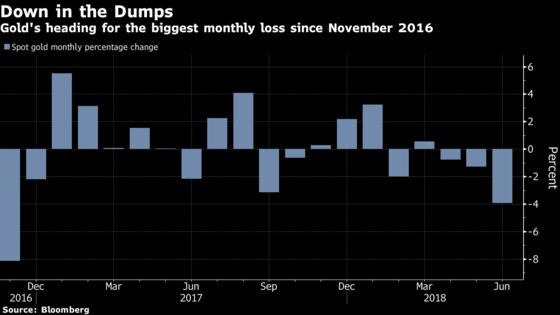 It's been a choppy first half. After trading above $1,300 since the start of the year, prices ticked lower in mid-May and went into free fall two weeks ago, erasing the year's gains. Investors shunned bullion and favored the dollar and Treasuries instead as they weighed the uncertainties surrounding the impact of a U.S.-China trade war on global growth.
"The U.S. dollar has been the biggest beneficiary as investors' first choice safe haven," said Gavin Wendt, senior analyst at MineLife Pty. "This has indirectly led to gold-price weakness, as the dollar and gold typically move inversely to each other. With the emergence of inflation, gold is likely to find a bottom, as the dollar's gains weaken."
Gold futures for August delivery rose 0.3 percent to settle at $1,254.50 an ounce at 1:31 p.m. in New York, helped by a decline in the dollar on Friday.
In other precious metals:
Spot Silver gained 0.5 percent to $16.0840 an ounce

It's heading for the fourth monthly drop in five

Platinum advanced 0.3 percent to $852.33 an ounce

Prices are down 6 percent in June, the most since September

Palladium rose 0.7 percent to $952.05 an ounce

Metal lost 3.7 percent this month, the most since March