Canada's Economy Shows Surprise Strength With April GDP Gain
(Bloomberg) -- Canada's economy showed unexpected strength in April with output edging higher on a sharp pick up in manufacturing and a rebounding real estate sector.
Gross domestic product expanded 0.1 percent from the prior month, Statistics Canada reported Friday in Ottawa. Economists had been expecting a flat reading due to the impact of poor weather conditions in April and following a disappointing run of economic data for the month.
The economy now is on track for growth to accelerate -- at least in the second quarter -- to beyond 2 percent, which should reinforce expectations the Bank of Canada will proceed with interest-rate increases in the second half of this year. The report marks a third consecutive month of gains -- including strong advances of 0.3 percent and 0.4 percent in March and February.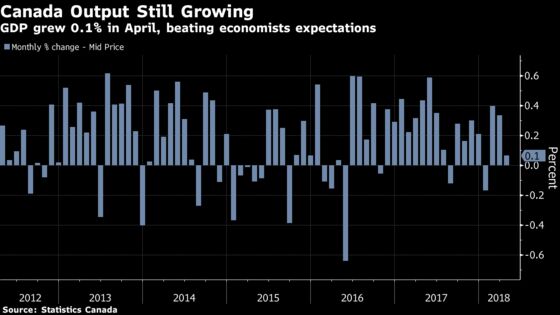 "While readily acknowledging that a 0.1% rise in headline GDP is not going to send many hearts racing, this actually was a decent result in a challenging month for the economy," Doug Porter, chief economist at Bank of Montreal, said in a note to investors. "Importantly, it suggests that growth was pretty much in line with the Bank of Canada's underlying expectations through the spring. "
The Canadian dollar advanced after the report, gaining 0.5 percent to C$1.3184 per U.S. dollar at 9:23 a.m in Toronto trading. Investors increased odds for a rate increase on July 11 to about 84 percent.
Canada's economy is coming off a run of three consecutive quarters of disappointing growth readings of below 2 percent.
Manufacturing was up 0.8 percent in April, which may be the biggest surprise given earlier factory sales data showed sharp declines during the month. Statistics Canada reconciled the discrepancy by saying much of the production ended up as inventory, which suggests a correction may be in store for the sector as those inventories get wound down. Both durable and non-durable manufacturing posted gains.
The real estate sector -- which has struggled amid a slumping housing market -- continues to show signs of stabilization. Real estate agent and broker activity was up 0.5 percent during the month, the biggest gain since tighter mortgage regulations were implemented at the start of the year.
Unseasonably cold weather in April also had an impact on the numbers, in both directions. It helped activity at utilities, which saw a 1.6 percent gain during the month, but hurt retail activity, which was down 1.3 percent.
Transportation and warehousing services were down, led by a 2.3 percent drop in rail transportation, in part due to fewer car loadings of manufactured products
Oil and gas extraction also showed surprising strength, up 0.6 percent, driven by higher output of conventional crude. Oil sands output was down 0.1 percent due to maintenance of some facilities
Mining excluding oil and gas dropped 9.1 percent, with Statistics Canada citing a labor disruption in iron ore mining
Construction was down 0.5 percent in April, the largest decline in a year