Walgreens Plans $10 Billion Share Buyback as Prescriptions Rise
(Bloomberg) -- Walgreens Boots Alliance Inc. authorized a $10 billion stock buyback as prescription sales jumped in the most recent quarter. But that growth obscured a flatter trend in the drug retailer's same-store results.
The stock reaction was mixed in early U.S. trading, with the stock down less than 1 percent following initial gains.
Back of store sales at the prescription counter, which account for more than 70 percent of its U.S. drugstore sales, rose 19.3 percent thanks to its acquisition of Rite Aid Corp. stores earlier this year and a central specialty pharmacy program. But comparable sales in the front of its U.S. stores declined.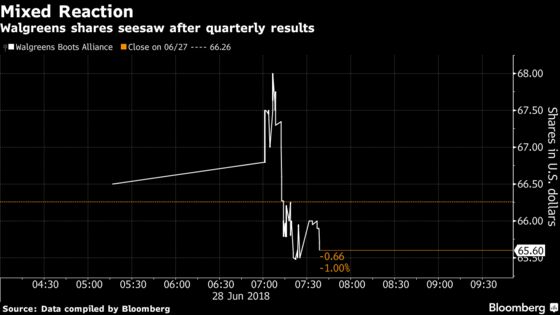 Earlier this year, the drugstore completed its acquisition of 1,932 new stores from a deal last year with Rite Aid Corp. While same-store sales in the front of Walgreens' U.S. drugstores, where customers buy items like toilet paper and toothpaste, declined, sales at the pharmacy counter in the back of the store grew on an 11.8 percent increase in prescriptions. Same store prescription numbers were flat.
But while it focuses on pharmacy, Walgreens' competitors have bold merger plans that will bring together insurance and drug benefits.
Its biggest retail competitor, CVS Health Corp., is buying health insurer Aetna Inc. for about $68 billion in a bid to create a vertically integrated medical company that will try to tame health-care costs and bring more medical services to retail clinics. In March, Cigna Corp. cut a deal to buy Express Scripts Holding Co., a drug benefit manager, for $54 billion.
Adjusted earnings were $1.53 a share in the fiscal third quarter ended May 31, beating analysts' estimates for $1.475. The company also raised the lower end of its fiscal 2018 adjusted earnings outlook to $5.90 to $6.05 a share.