Sunny Britain Helping Cut Coal by Giving Boost to Solar Power
(Bloomberg) -- A pocket of high pressure that elevated the U.K.'s temperatures to their highest this year is also boosting solar generation and allowing the nation to meet peak power demand without burning coal.
Solar panels have been generating 8 gigawatts or more for the past seven days, providing about 10 percent of electricity during the evening peak hours and as much as a fifth in the morning, according to National Grid Plc data. During the same period, production from coal plants has often dropped to zero.
Britain's solar power output reached a record 9,380 megawatts on June 22 and levels are expected to remain high into July.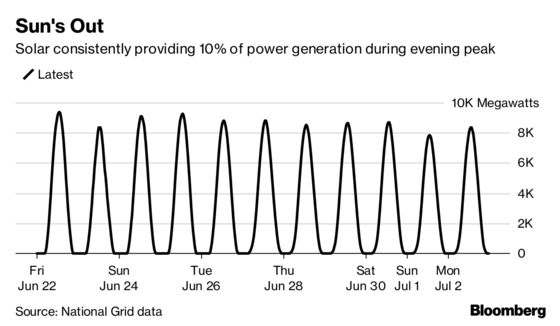 The data underscores how solar output is prone to change with the weather. During the same period last year, when the U.K. had slightly less than its current 13 gigawatts of installed solar capacity, generation was four times lower on some days. Britain's solar generation capacity is expected to increased to 16 gigawatts by 2021 and then to 18 gigawatts by 2023.