21 People Have Died at One Company's Gold Mines This Year
(Bloomberg) -- Sibanye Gold Ltd. accounts for nearly half of the 47 people killed at South African mines in 2018, making this the deadliest six months in the company's five-year history.
The largest producer of South African gold has had 21 fatalities, more than three times the smaller Harmony Gold Co. with 6 deaths, and faces growing outrage from the country's powerful labor unions.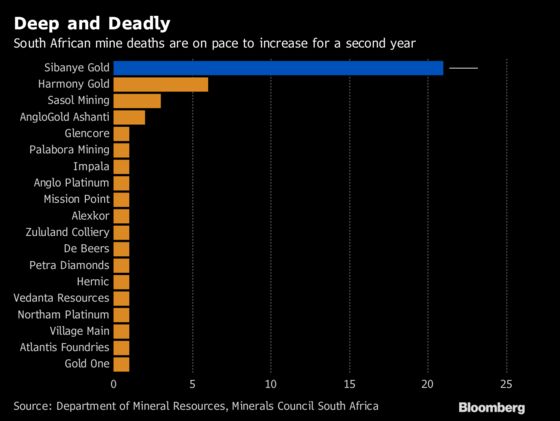 Sibanye employed about 64,500 people including contractors in South Africa as of December, compared with Harmony's 30,990 as of August.
Read about how Citi says Sibanye's rising death toll exposes investment risk
Sibanye's spike means the local industry is on pace for the first back-to-back increase in fatalities records going back to the end of whites-only rule in 1994. While still far below the 553 deaths recorded in 1995, the trend poses questions about the future of precious-metals mining in South Africa, as workers follow depleting orebodies deeper in a country that's been mined commercially for over a century.
"Safety is a primary focus for Sibanye-Stillwater and there is clear evidence that safe operations are the most productive operations," James Wellsted, a spokesman for the company, said on Wednesday.
Read: Sibanye Is Ordered to Shut Parts of Mine After Worker Killed