Sempra to Sell Assets—Just Not All That Elliott Asked For
(Bloomberg) -- Sempra Energy's tangle with billionaire Paul Singer's Elliott Management Corp. is only just getting started. So is the foray of activist investors into the once rock-steady U.S. utility business.
On Thursday, California utility owner Sempra resisted (for now) demands by Elliott to get rid of its Latin American and liquefied natural gas businesses, setting the stage for what may become a prolonged battle between the two. Get used to it -- because tussles between utilities and activists like this are bound to continue, says Nick Akins, chief executive officer of a fellow utility owner, American Electric Power Co.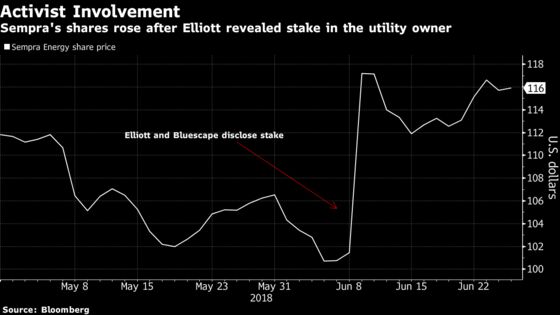 "I think you will" continue to see activists go after U.S. utilities that have expanded beyond the regulated electricity business in search of profits, said Akins, who dumped AEP's wholesale power business to focus on steadier, more regulated utility operations. Investors see "the value proposition of being entirely focused on the regulated operations as opposed to, in some ways, being schizophrenic."
It was only a year and a half ago that Elliott and Bluescape Resources teamed up to press U.S. power generator NRG Energy Inc. for a selloff of its renewable energy assets. Earlier this year, Elliott targeted FirstEnergy Corp., another electricity producer that eventually placed its wholesale business into bankruptcy. Now Elliott and Bluescape are back together, pressing for changes at Sempra. Any growth-starved utility looking to diversify should beware: You could be turning yourself into an activist's target.
"You have to really reconcile, from the investor standpoint, what kind of company you're going to be," Akins said in an interview in San Francisco Thursday.
Sempra's figuring that out the hard way. Amid pressure from Elliott and Bluescape -- helmed by C. John Wilder, the man who rescued the Texas utility TXU Corp. from the brink of insolvency and then made a fortune selling it -- Sempra presented a plan on Thursday to divest U.S. wind, solar and natural gas assets. The company said it'll also consider selling its South American utilities, but pushed back on the idea of immediately spinning off its LNG unit. Shares fell 0.7 percent to $115.11 on Thursday.
"It doesn't sound like they were moved in any major way by the activists' suggestions," said Paul Patterson, a utility analyst for Glenrock Associates. "I didn't get the feeling that there was any significant change to their business approach."
The fight has the potential to turn nasty if the two sides can't reach a settlement. In one battle with Hess Corp., Elliott held its own town hall-style meeting in 2013 and took its case directly to investors for change at the company. With Sempra, the investor has pushed for six new directors on Sempra's board.
The approach by Elliott comes at a time when utilities like Sempra have been borrowing heavily to expand their businesses beyond power distribution. U.S. power companies have been looking for new ways to increase profits as demand for electricity has stagnated since the recession and customers are increasingly producing their own.
Sempra branched out by starting construction on a terminal to export liquefied natural gas from Louisiana. It's also proposing an LNG export facility in Texas and is considering one in Mexico.
"We are going to reposition our portfolio around North America, and it will increasingly be focused on the United States," Sempra Chief Executive Officer Jeff Martin said during an analyst presentation Thursday. The company will look to divest assets in a "phased" and "disciplined" way, he said, adding that it could eventually review its LNG business.
Prior to reviewing the plan Sempra presented Thursday, Elliott said it was "disappointed" that it hadn't come to an agreement with Sempra. A representative of the investment company said Elliott had no immediate comment on the proposal after it was announced.
Martin, who took the helm of Sempra just weeks ago, said he was engaged in talks with both Elliott and Bluescape and had gone as far as to fly to Dallas to meet with Wilder. "We have a lot of respect for those folks," he said.