Rusal Says It's Doing Everything Required to Lift Sanctions Threat
(Bloomberg) -- United Co. Rusal is doing everything it can to avoid punitive U.S. restrictions due for full enforcement in October, according to the Russian aluminum giant's acting Chief Executive Officer Evgeny Nikitin.
"Right now, we are taking all the actions that should be required to achieve the right result for the company," Nikitin, who replaced Alexandra Bouriko, said in an interview Thursday after the company's annual meeting in Hong Kong. "We are operating in full compliance with the conditions of our license" from the U.S. Treasury's Office of Foreign Assets Control, he said.
Rusal has endured months of turmoil since the U.S. imposed sanctions in April aimed at billionaire founder Oleg Deripaska, who resigned as a non-executive director last month in a fresh bid to distance himself from the company. The curbs are set to take full effect from Oct. 23 unless Deripaska gives up control.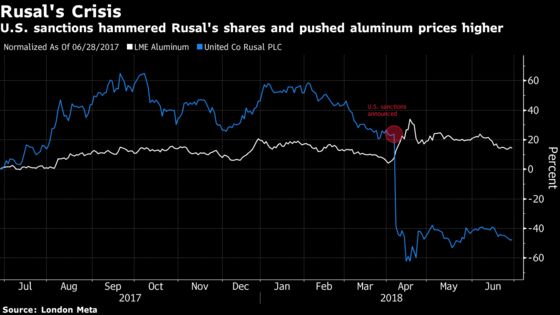 "The company, of course, has had some difficulties," said Nikitin, named as acting CEO amid a mass exodus from the board last month. "We are now in constant contact with U.S. authorities," he said. "I can't speak concretely about that, but our contact is comprehensive, and always continuous."
The U.S. sanctions fueled unprecedented volatility in aluminum prices by casting doubt on the future of a major player in the supply chain. Rusal supplied about 6 percent of the world's aluminum and operates mines, smelters or refineries in locations including Guinea, Ireland, Jamaica and Russia.
Rusal's woes show the more significant role geopolitics are now playing in commodities. The sanctions are part of a package of measures targeting Russian tycoons to punish the country's elite for actions including allegedly meddling in U.S. elections and incursions into Ukraine. President Donald Trump and counterpart Vladimir Putin will likely discuss these issues this summer.
Asked if he was hopeful that the planned summit between the two leaders could help in resolving Rusal's difficulties, Nikitin said: "We are businessmen not politicians, so we will leave the politics to the presidents."