H&M's Inventory Problem Forces It to Cut Prices Even More
(Bloomberg) -- Hennes & Mauritz AB struggled to deliver new items to its stores in the latest quarter, forcing it to cut prices even more to clear out unsold clothing.
The company reported earnings that fell for a fourth consecutive quarter as stored goods swelled to a record $4 billion. That's equivalent to almost a fifth of total sales, and up 2 percentage points from a year earlier, while H&M was aiming to reduce that proportion.
"There are several quarters, at least, of high markdowns to come," wrote Geoff Ruddell, an analyst at Morgan Stanley.
The Swedish retailer started introducing a new logistics system to speed up shipments, but ran into snags that interrupted deliveries to markets including the U.S. and France, as well as slowing down online sales in the Nordic region. H&M has been struggling to adapt to the new digital landscape as customers increasingly abandon its physical stores to buy garments online.
The shares were up 3.5 percent as of 1:30 p.m. in Stockholm after dropping as much as 4.6 percent in early trading. Chief Executive Officer Karl-Johan Persson told reporters he expects a stronger second half than last year's, though it's getting more difficult to meet an earlier forecast that operating profit will improve somewhat this year. The weaker dollar is helping reduce purchasing prices, H&M said.
"I would be surprised if we don't have a stronger 2019 compared with 2018," he said in an interview.
H&M is playing catch-up to Zara owner Inditex SA, which is known for getting new clothes into its stores as quickly as two weeks after designing them. The Spanish company reported earnings that beat estimates this month.
"The market may believe this is an inflection point now," Bloomberg Intelligence analyst Chris Chaviaras said by email. "Don't forget H&M is a consensus sell, so any improvement in momentum, even if it is a 'less bad' rather than 'good' result, can make some people a bit more hopeful or spook the bears."
Only two of 34 analysts covering H&M recommend buying the shares, according to data compiled by Bloomberg. About a quarter of H&M's freely traded stock has been sold short, meaning that bearish investors borrow the shares and sell them, betting on a decline.
Data released earlier this month showed that second-quarter sales were unchanged in local currencies, including value-added tax, despite the fact that H&M added a net 303 stores in the 12 months through May. H&M lowered its plan for store closures this year to 150 from 170, which means the retailer plans 240 net additions.
Persson said H&M scaled back closings because it got good deals to keep some stores running.
Pretax profit slumped 22 percent to 6.01 billion kronor in the three months through May. Analysts expected 6.28 billion kronor.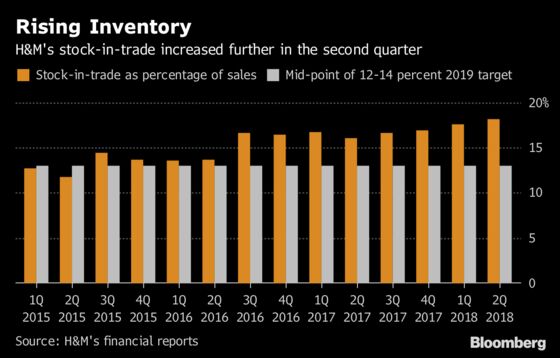 The retailer said in March that inventories should come down to the targeted level of 12 percent to 14 percent of sales during 2019 as sales pick up in the second half of this year.
Most of the inventory is from the current season, Persson said.
"H&M's issues will take a long time to fix," wrote Michelle Wilson, an analyst at Berenberg. "The inventory problem has now rolled on for the seventh quarter."
While H&M struggles, Inditex has been introducing new technology at select Zara stores, trying to erase the lines between online and in-store operations. A new concept store in the U.K. uses robot arms to deliver internet orders to walk-in customers.