Deutsche Bank U.S. Unit Fails Stress Test as Controls Cited
(Bloomberg) -- Deutsche Bank AG failed the first public stress test of its combined U.S. business as the Federal Reserve faulted the company's internal controls, giving another black eye to executives trying to shore up investor confidence.
The Fed found "widespread and critical deficiencies across the firm's capital-planning practices," according to a statement Thursday. It cited weaknesses in Deutsche Bank's risk-management functions and data capabilities, as well as the methodology and assumptions used to forecast how the unit would fare under stress.
Of the 18 domestic and foreign banks that faced the qualitative section of the exam, Deutsche Bank was the only one to receive an objection. The finding shows authorities remain frustrated with the company's U.S. arm, which they added last year to a confidential list of troubled lenders.
"Together, these weaknesses raise concerns about DB USA's ability to effectively determine its capital needs on a forward-looking basis," the Fed said.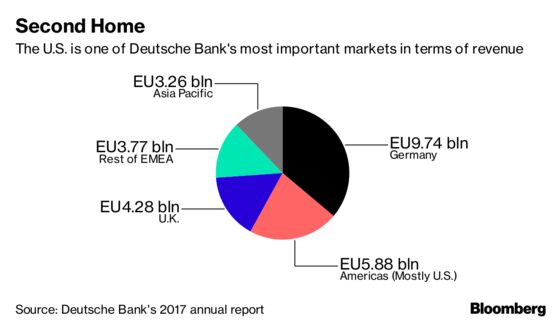 Deutsche Bank said the U.S. business "has made significant investments to improve its capital planning capabilities as well as controls and infrastructure." The unit is still making progress and working with regulators, according to a statement posted on the web.
"It's pretty uncomfortable that they're the only bank to fail, but we knew they had trouble with their controls and the Fed probably had to send a clear signal," said Ingo Frommen, an analyst at Landesbank Baden-Wuerttemberg who recommends investors hold Deutsche Bank shares. "The absence of disclosures on additional penalties, like scaling back their U.S. business further, suggests that the Fed accepted that the bank is investing to improve the situation."
Deutsche Bank rose 1 percent to 9.15 euros as of 9:02 a.m. in Frankfurt, narrowing its decline this year to 42 percent.
The U.S. unit of Germany's largest bank failed the second round of this year's stress tests, which were established as part of the Dodd-Frank overhaul of financial regulations. All 35 of the lenders in the opening round showed they could withstand a severe economic downturn, the Fed announced last week.
Some analysts had predicted that Deutsche Bank would fail the qualitative portion of the test, which focuses on internal controls, even as the unit's capital levels exceeded required minimums by wide margins. A firm receiving an objection may resubmit its capital plan, but isn't required to do so.
Six foreign firms have U.S. holding companies debuting in this year's stress test and all aside from Deutsche Bank passed. In previous years, Deutsche Bank's custodian unit participated, failing twice. Now, a substantial portion of the company's operations in the U.S. are subject to the exam.
Failure can prevent a bank's local business from shifting capital back to its parent company. The Fed could approve a specific capital distribution if a bank requested it, senior officials said.
Still, the impact on Deutsche Bank is limited. The Frankfurt-based firm draws on other resources to pay profits to shareholders, and has enough cash in Europe to maintain operations.
"Deutsche Bank doesn't have an issue with liquidity, so the test will probably amount to a slap on the wrist with no major financial implications," Tom Hallett, an analyst at Keefe, Bruyette & Woods in London, said prior to Thursday's announcement.
Among non-U.S. banks, units of Barclays Plc, Credit Suisse Group AG, Royal Bank of Canada and UBS Group AG also faced the qualitative test for the first time. BNP Paribas SA's U.S. unit was also new to the test, but it wasn't subject to the risk-control grading. Analysts had expected others besides Deutsche Bank might fail because they were still unfamiliar with the Fed's data demands even after taking them with grades given privately last year.
Two more foreign banks were also subject to the Fed's qualitative review, though this isn't their first year publicly releasing results. The U.S. businesses of HSBC Holdings Plc and Toronto-Dominion Bank both passed.
HSBC said earlier this month its U.S. unit was able to send dividends to the parent company last year for the first time since 2006. Even though HSBC's U.S. division had passed the stress test since 2014, high capital demands for its holdings of legacy mortgage assets trapped capital at the unit, the firm explained.