Amazon's PillPack Acquisition All Started With an MIT Hackathon
(Bloomberg) -- Jeff Bezos can thank a hackathon at the Massachusetts Institute of Technology for bringing together the founders of his latest acquisition. TJ Parker and Elliot Cohen founded internet pharmacy PillPack shortly after winning MIT's Hacking Medicine competition in 2012.
Amazon.com Inc. on Thursday announced it was buying PillPack, which personalizes shipments for people taking multiple medications and streamlines the refill and co-pay process. The acquisition will give the e-commerce giant a nationwide drug network and bring it into direct competition with traditional pharmacy chains including Walgreens Boots Alliance Inc. and CVS Health Corp.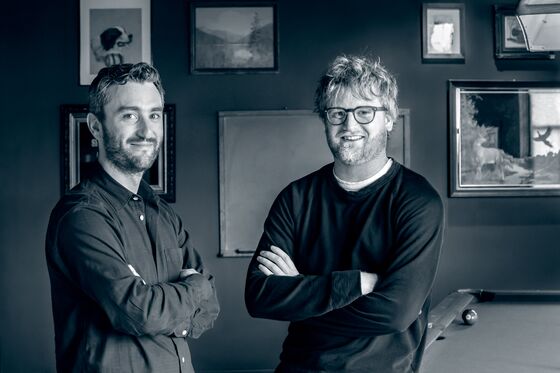 Amazon will pay about $1 billion for Boston-based PillPack, according to a person familiar with the situation.
Parker, a second-generation pharmacist, is said to have learned his ABCs going through a copy of a pharmaceutical book owned by his father and worked at the family drug store in Concord, New Hampshire, as a teenager. He delivered medicines to people's homes and learned first-hand how many patients were struggling to deal with multiple medications for chronic conditions, sometimes getting confused between all the different bottles. For one patient, he literally had to mark the bottles with a magic marker to help her tell them apart.
He went on to attend the Massachusetts College of Pharmacy and Health Sciences and yearned to revamp the way consumers get their meds. "We've mapped the human genome, but pharmacy hasn't changed in 100 years," Parker recalled thinking in an official company history.
Cohen, meanwhile, studied computer science at the University of California Berkeley before starting his MBA at MIT in 2011. Cohen, 35, got interested in healthcare after watching his father struggle to keep track of his medications following quadruple-bypass surgery. Before starting PillPack, Cohen in 2010 co-founded Corengi Inc., which helped patients find clinical trials that might benefit them.
Parker, 32, knew the technology to combine pills into simple daily packages had long been used in long-term care pharmacies at nursing homes. But it was much more complicated to do this for outpatients with multiple doctors, prescriptions and shifting insurance coverage. The hard part was creating software to compile the disparate prescription information from doctors and insurance companies, so people got the right dose of the right pills every month.
PillPack uses proprietary software to automate many tasks, such as verifying when a refill is due, determining co-pays and confirming insurance. That eliminates much of the manual work that pharmacists often are saddled with now.
Since founding PillPack, the pair has raised more than $118 million from brand-name investors including Accel, Sherpa Capital and New York rapper Nas's Queensbridge Venture Partners. They also signed up former U.S. Treasury Secretary Larry Summers as an adviser. At the end of 2017, Parker wrote in a blog post that the firm was on track to do $100 million in revenue for the year.
Parker and Cohen encountered challenges along the way. When PillPack was starting out, Facebook Inc. temporarily blocked the startup's ads as the social network cleaned up its policies on pharmaceutical advertising. In 2016, PillPack got into a fight with pharmacy benefits manager Express Scripts Holding Co., which handled roughly 30 percent of PillPack's customers. Express Scripts threatened to kick PillPack out of its pharmacy network, arguing that it misrepresented itself as a retail pharmacy when it was using mail order for most of its prescriptions, according to news reports at the time in the Boston Globe.
PillPack went public with the dispute, contending that Express Scripts was simply trying to stifle a potential competitor to its own giant mail-order pharmacy. The two sides soon reached an agreement to let PillPack remain in the network.
The deal rekindled PillPack's growth and turned it into a hot acquisition target. At one point Walmart Inc. was sniffing around. Then Amazon swooped in.