Amazon Makes More Trouble for the Dow by Ruining Walgreens Debut
(Bloomberg) -- As if refusing to split its stock weren't enough, Amazon.com Inc. keeps creating headaches for the Dow Jones Industrial Average, spoiling this week's debut of Walgreens Boots Alliance Inc.
An announcement by Jeff Bezos' virtual superstore that it's buying online pharmacy startup PillPack sent tremors through the drugstore space. Walgreens, added to the 122-year-old index Tuesday morning, was one of the biggest casualties.
"We would call that the Amazon effect," Ernie Cecilia, chief investment officer at Bryn Mawr Trust Co., said by phone. "With Amazon's acquisition of PillPack, will it have a continuing negative effect on Walgreens which is now a new member of the Dow? Sure, it definitely could."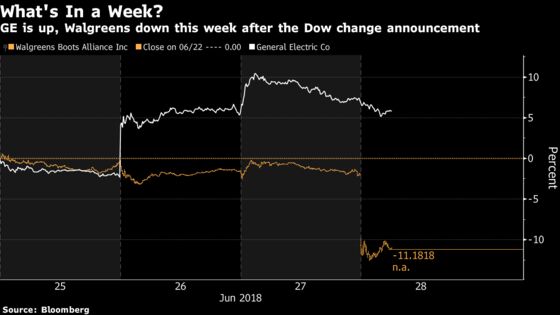 Walgreens tumbled 9.2 percent as of 11:38 a.m. in New York, slashing more than 40 points from the Dow itself, the most of any company in the index. The drug-store chain also reported earnings Thursday that beat analyst estimates and announced a $10 billion share buyback program, but it wasn't enough to fend of Amazon's impending foray into the health care business.
Just last week, the overseers of the Dow announced that Walgreens would be added to the price-weighted gauge in place of General Electric Co, which was the last original member standing. Since the switch, GE's Chief Executive Officer John Flannery has revealed a plan to revamp the U.S. business titan, pulling the company out of the health care and oil markets.
Amazon's $1,693 stock is for all intents ineligible for membership in a price-weighted gauge like the Dow.
GE is up more than 6 percent this week, poised for its first week of gains in six and the best performance since at least April. Walgreens, on the other hand, has fallen more than 10 percent, heading for its worst week since 2014. The Deerfield, Illinois-based drugstore chain has cut near 50 points from the Dow since it's addition and is the gauge's worst performing stock. If GE were still around, it would be the best performer in the index over the same time period.
"Ironic, yes? Choreographed, I don't think so," Cecilia said. "John Flannery has been talking about revitalizing the company. In terms of the timing of the Amazon announcement about acquiring PillPack and Walgreens coming into the Dow, it's more serendipitous than anything."