Travel Ban Win Could Embolden Trump on Border
Donald Trump's efforts to unilaterally reshape U.S. immigration policy are bumping up against the federal judicial system – with mixed results.
A divided U.S. Supreme Court yesterday upheld the president's travel ban, rejecting contentions it targeted Muslims and giving Trump a legal and political victory on a controversy that's helped define his presidency.
What's more, the ruling had little to say about Trump's religiously tinged comments – including his campaign statement that "Islam hates us" and a call for a "total and complete shutdown of Muslims entering the United States."
Yet at the same time, a federal judge in San Diego ordered the administration to reunite immigrant families separated at U.S. border crossings, and to refrain from detaining parents without their children.
"This ruling is an enormous victory for parents and children who thought they may never see each other again," Lee Gelernt, an American Civil Liberties Union lawyer who represents the immigrants in the case, said in a statement.
The mixed messages coming from the courts are likely to harden the positions of both Trump's supporters and his critics heading into the November midterm elections that will determine control of Congress for the next two years.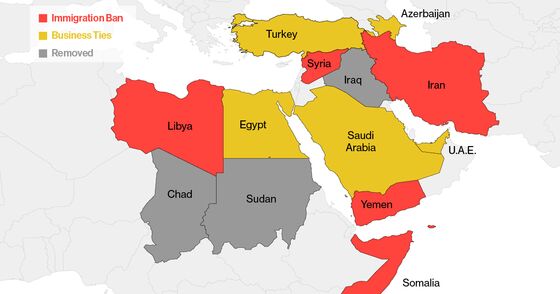 Primary update | The liberal wing of the Democratic Party just put the establishment on notice. A 28-year-old former Bernie Sanders campaign organizer defeated New York Representative Joe Crowley – the fourth-ranking House Democrat and someone seen as a potential successor to Minority Leader Nancy Pelosi – in yesterday's party nominating contest. It's a sign intra-party divisions persist on both sides of the aisle heading into the midterms.
A little less confrontation | Trump signaled he might take a less aggressive path toward curbing Chinese investments in sensitive American technologies, adopting language similar to that of Treasury Secretary Steve Mnuchin in White House debates over trade. Concerns over the potential impact of global trade restrictions weighed on Asian markets, with the Chinese yuan falling for a 10th day, matching its longest run of declines on record.
Europe's black swan | For more than 12 years Angela Merkel has been at the heart of every major European drama, persuading German voters to back rescue packages for euro-area neighbors, deepen EU integration, and accept more than a million refugees. But, as Alan Crawford writes, she's facing the biggest threat of her chancellorship and her successor may decide it's time to put Germany first.
Changing the energy mix | Once comfortably oversupplied global energy markets are on alert again as geopolitical risks flare. While Europe is adding natural gas supplies from the U.S. and Qatar on top of its traditional mainstay, Russia, Trump's demand that U.S. allies stop buying Iranian crude requires Saudi Arabia to step up production to keep prices in check.
Mexican elections | Mexicans are turning their backs on the U.S.-trained technocrats that have ruled the country for four decades promising economic stability, but delivering slow growth, rising crime and a trail of corruption scandals. In their place, and to the dismay of many global investors, voters are swinging sharply left, choosing a candidate who pledges to put the poor first with massive social welfare spending. Andres Manuel Lopez Obrador looks poised to make history this Sunday.
And finally ... India is preparing its moonshot. The country's space agency is planning to launch a rover to the south side of the moon in October to search for a revolutionary new energy source. Helium-3 is rarely found on Earth, which is protected from solar winds by its magnetic field. But the isotope is so abundant on the moon its waste-free nuclear power could meet global energy demand for the next 250 years. If we can get it back down to Earth.