Scana Cuts Dividend 80% Amid Tumult Over $8 Billion Power Merger
(Bloomberg) -- Scana Corp., the embattled South Carolina utility that Dominion Energy Inc. has offered to buy, slashed its quarterly dividend by 80 percent after state lawmakers pushed to reduce its rates.
The dividend cut, to 12.37 cents per share, is intended to "preserve" the company's options as it tries to recover costs from a failed nuclear project, Scana said in a statement Thursday. It's the first time the company has reduced its dividend since 1999. The shares rose.
The announcement comes one day after South Carolina legislators passed a measure to cut the amount Scana can charge customers for the two unfinished reactors. Governor Henry McMaster says he won't sign the bill, but legislators may override his veto after passing the measure with overwhelming support in both the House and Senate. Dominion, meanwhile, has threatened to walk away from its proposed, $7.9 billion takeover of the company if legislators reduce rates beyond what it's already proposed.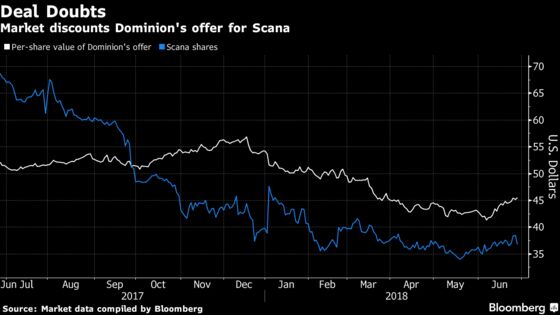 "The South Carolina legislature is playing a high-stakes game where they are gambling with the money of customers and taxpayers," Dominion Chief Executive Officer Tom Farrell said in a statement. "They are promoting continued turmoil for South Carolina's energy and business future."
The moves underscores how the V.C. Summer nuclear plant continues to haunt Scana after projected costs ballooned to more than $20 billion, forcing the utility to shelve one of the last reactor projects left in America. The company's shares have slumped more than 40 percent since pulling the plug in July. Grappling with the fallout has made the company a tough acquisition target -- even with an eager buyer.
Scana called the legislation "unconstitutional" and said in a statement that it's evaluating legal options. Shares rose 5.8 percent Thursday to $38.94 at 10:32 a.m. in New York.
The bill would temporarily cut the amount Scana can recoup from customers to pay for the two unfinished reactors by almost 15 percent. McMaster plans to veto it because the measure doesn't go far enough to spare customers from paying for the failed project, according to his spokesman.
"He won't sign it," spokesman Brian Symmes said in an interview. Lawmakers would need a two-thirds majority to override his veto.
The measure would temporarily reduce the amount added to customer bills to pay for the nuclear project to 3.2 percent from 18 percent, saving them more than $260 million. Scana could withstand the temporary rate cut by suspending its dividend, keeping a merger "palatable" for Dominion, Guggenheim Securities LLC analyst Shahriar Pourreza said in a note late Wednesday.
That said, risks remain, and Dominion "can still pull one of its contractual ripcords and walk from the deal once legislation is effective," he said.
McMaster has previously said he won't sign a measure unless it eliminates Scana's rates for the nuclear project altogether. Dominion has promised a 7 percent rate cut and a $1,000 cash refund to the average Scana residential electric customer. That's Dominion's best and final offer, Farrell told lawmakers Jan. 17.
"Legislators are risking cash payments to SCE&G's electric customers of $1.3 billion -– equal to $1,000 for the typical residential customer -– and a permanent rate reduction of 7 percent," Farrell said in the statement Wednesday. "All of this for a few headlines and a temporary rate reduction that has good odds of being overturned in court."
Should Dominion push forward with the takeover, the deal would still need approval from the South Carolina Public Service Commission.