Rand Is Losing Out to Some of the Most Volatile EM Currencies
(Bloomberg) -- It's another bad day for South Africa's rand. Not only is it down the most in emerging-markets, it also crossed key milestones against other developing-nation currencies.
The rand slumped as much as 1.5 percent against the dollar on Wednesday after Moody's Investors Service raised concerns about political risks in Africa's most-industrialized economy. That added pressure at a time when a trade dispute between the U.S. and other countries is weighing on emerging-market assets.
South Africa's widening current-account deficit, slow growth, and growing inflation pressures make it one of the more vulnerable emerging-market units.
But it's also losing ground against some other emerging markets that may be considered vulnerable: for example, Turkey. The rand has fallen almost 4 percent against the lira in the past three days to trade above the 100-day moving average for the first time since November, a sign to some traders that momentum is building for further weakness.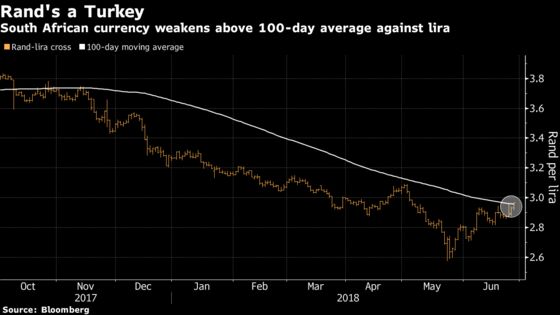 While Recep Tayyip Erdogan's presidential election victory over the weekend removed some of the political uncertainty that weighed on the lira, risks for the rand remain, according to Moody's. The government's move to expropriate land without compensation is one deterrent to investment, the rating company said Tuesday. And while Turkey's central bank has raised rates aggressively in support of the lira, there's little chance that South Africa's Reserve Bank will do the same.
After gaining 5.6 percent against the ruble in the first five months of the year, the rand is now coming off second best against Russia's currency too. It's wiped out the year's gain in June, and declined as much as 1.2 percent on Wednesday, weakening above the 200-day average for the first time since December. What's more, the 50-day moving average crossed over the 100-day average, a so-called golden cross that signals to some traders more gains are in store for the Russian currency.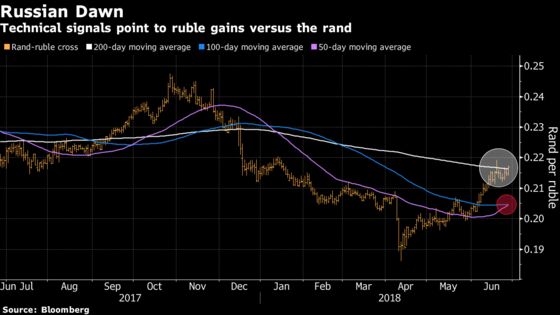 While rising oil prices have supported the ruble, they're bad news for South Africa, which is a net oil importer. Gasoline prices climbed to a record high in June, threatening to fuel inflation. The five-year break-even rate, a gauge of traders' inflation expectations over the period, has risen to 5.77 percent from 5.47 percent at the end of April.