Oil Surges to Highest Since 2014 After `Massive' Stockpile Drop
(Bloomberg) -- Oil jumped to a level last seen in late 2014 after U.S. crude stockpiles tumbled by the most in almost two years.
Futures rose 3.2 percent in New York on Wednesday. Domestic crude inventories declined by 9.89 million barrels last week, as refiners boosted oil processing rates and exports soared to a record, the Energy Information Administration said. Oil stored at the key pipeline hub in Cushing, Oklahoma, shrank for a sixth straight week.
Prices already had been rallying as U.S. President Donald Trump's administration sought to dissuade purchases of oil from Iran, OPEC's third-largest crude producer. The efforts to isolate and hobble the Islamic Republic overshadowed Saudi Arabia's plan to lift oil output to a record within weeks.
"Obviously, a very bullish draw" on American inventories, driven by record crude exports and refinery-processing rates, said Nick Holmes, an analyst at Tortoise in Leawood, Kansas, which manages $16 billion in energy-related assets. "Exports continue to be extremely robust."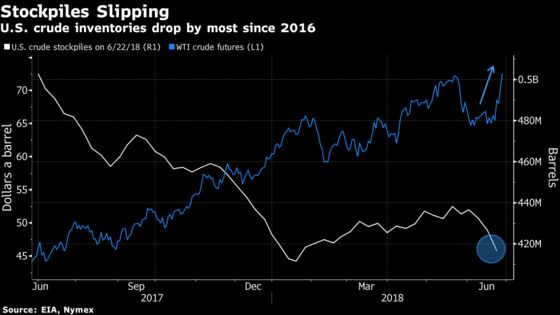 Supply risks from Iran to Venezuela have buoyed crude markets, even as the Organization of Petroleum Exporting Countries and allies such as Russia pledged to relax production caps. Record exports of U.S. crude last week indicated American producers were shipping out as much, if not more, oil than Iran, according to Bloomberg calculations.
Overseas demand for U.S. crude will persist as sanctions cut into Iran's market share, Venezuelan production continues to collapse, and the Saudis stretch their output capacity, Holmes said. "Spare capacity, globally, is pretty thin and that bodes well for prices."
West Texas Intermediate crude for August delivery climbed $2.23 to settle at $72.76 a barrel on the New York Mercantile Exchange.
As WTI hits 2014 highs, oil options traders bet on further near-term rise
Brent futures for August settlement advanced $1.31 to end the session at $77.62 on the London-based ICE Futures Europe exchange. The global benchmark crude was at a $4.86 premium to WTI.
At least some buyers of Iranian supplies are considering acquiescing to Trump's demand. Japan's Fuji Oil Co. and Taiwan's Formosa Petrochemical Corp. are discussing ending imports from the source of 10 percent of OPEC's output, though no final decisions have been made.
The EIA reported that crude exports jumped to 3 million barrels a day last week, while refinery utilization rates increased to the highest since 2005 and refinery demand for all sorts of feedstocks jumped to a record, all contributing to the crude stockpile decline.
"That was a massive draw, a draw that we haven't seen in quite some time," said Tariq Zahir, a commodity fund manager at Tyche Capital Advisors LLC. "You're in a severely backwardated market now," where front-month futures trade higher than later-dated contracts, a symptom of tightening supplies.
Gasoline futures rose 2.8 percent to settle at $2.1336 a gallon, the highest level in more than three weeks.
Add Kazakhstan to the list of oil producers whose supply is restricted. The central Asian nation's output slipped by about 240,000 barrels a day between Sunday and Tuesday, data from the country's Ministry of Energy showed.