Intel Blows Keep Coming as Apple Modem Contract May Be at Risk
(Bloomberg) -- It was another day of bad news for Intel Corp. on Wednesday, as a new data point suggests that it may lose Apple Inc.'s modem business, according to a note from Northland analyst Gus Richard.
Richard, who rates the stock the equivalent of a sell, wrote that MediaTek Inc., which manufactures modems, might displace Intel for the product at Apple, which he says has been rumored to be working on their own modem. Apple is already planning to phase out Intel chips in Mac computers as soon as 2020, people familiar with the plans said in April. Shares of Intel fell as much as 1.3 percent on Wednesday before paring losses as of 12:00 p.m. New York time.
The new wrinkle follows a Goldman Sachs note today detailing its souring outlook on Intel, after analysts met with more than 25 companies in the technology supply chain last week. Despite positive trends, Toshiya Hari and Mark Delaney wrote that Intel could stand to lose market share in the server CPU market, which it currently dominates. Analysts at Bernstein earlier this week downgraded the shares following the CEO transition and what they saw as limited upside.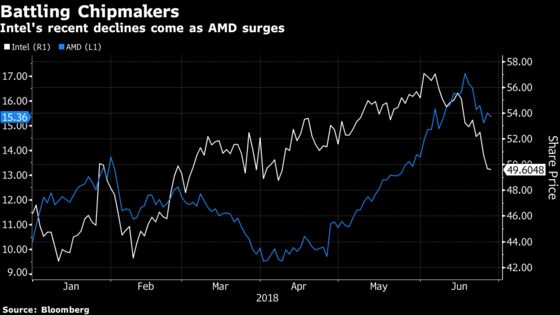 In the past seven days, Intel lost $13 billion in market value, the CEO resigned after a relationship with a staffer and it was downgraded by two analysts. It's been a stark momentum shift for the Santa Clara, Ca.-based computer component manufacturer, which had seen its shares rise over the course of the year as then-CEO Brian Krzanich's efforts to expand into new markets took hold. Intel shares, after rising 24 percent this year through the beginning of June, have now given up much of the gains.
Some analysts are still bullish on the semiconductor giant. Argus Research's Jim Kelleher defended his buy rating for Intel in a Wednesday note, arguing that strong fundamentals made the recent slide in the stock an attractive entry point for investors.
"Intel faces the usual array of competitive risks, but is the clear leader in microprocessors," Kelleher wrote. "Given the company's history of technology leadership, we do not expect any meaningful market share losses going forward."