Comcast Is Weighing Private Equity Partnerships for Fox Bid
(Bloomberg) -- Comcast Corp. is mulling teaming up with private equity investors in its pursuit of 21st Century Fox Inc.'s assets, a step that may help it compete in an escalating bidding war, a person familiar with the situation said.
The cable giant also is assessing whether strategic investors could help the company counter a takeover attempt by Walt Disney Co., according to the person, who asked not to be identified because the deliberations are private.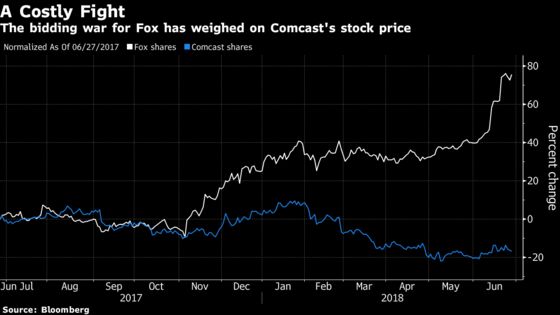 The Wall Street Journal previously reported on the discussions, helping send Fox shares up as much as 2.4 percent on Wednesday. The gain extended a rally fueled by the battle between Comcast and Disney. Both companies are attempting to acquire a big chunk of Fox, including film and TV businesses and such properties as "The Simpsons" and "X-Men."
For now, Disney has the inside track. Fox accepted a sweetened bid of $38 a share from the entertainment giant last week. That offer was about $3 a share more than the latest bid from Comcast, the latest U.S. cable company. Disney also is close to securing antitrust approval for its Fox deal, which would deal another blow to Comcast's efforts, according to a person familiar with the matter.
Comcast is now mulling its next steps. If the bidding reaches a high enough level -- say, $90 billion -- the company may go to private equity firms or other backers for help, the Journal said. In one scenario, a strategic investor could take on Fox's U.S. assets -- including the 20th Century Fox studio and regional sports networks -- and leave Comcast with overseas assets.
Fox shares rose as high as $48.82 on Wednesday, bringing their year-to-date gain above 40 percent.
Comcast's stock, meanwhile, has been battered by fears that a bidding contest will grow too costly. It fell as much as 1.5 percent, while Disney was little changed.