He Lobbied for Coal. Now He's In the Trump Administration, and Watching His Words
(Bloomberg) -- Andrew Wheeler used to lobby the Trump administration to take emergency action to keep coal-fired power plants up and running.
But now that the administration is actively developing plans for shoring up the plants, Wheeler has to keep mum. As the No. 2 official at the Environmental Protection Agency, Wheeler says he is recusing himself from broad government deliberations over the issue, including at least one recent meeting of top administration officials.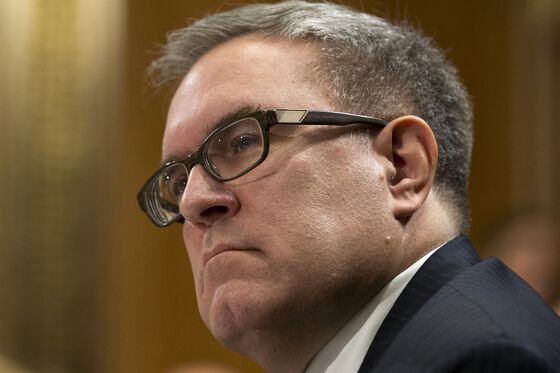 "As soon as I saw that pop up on my calendar, I told my admins I can't participate in that," Wheeler said in an interview Wednesday. Any materials on the issue also are steered to another official representing the EPA in those discussions, Wheeler said. "I am not participating at all in that."
Wheeler drew scrutiny for his lobbying past and his previous work as a Senate staffer to quash climate change legislation even before his April 12 confirmation to be deputy EPA administrator. But more than two months into the job, Wheeler is under even closer examination now as the most likely immediate successor to Scott Pruitt, should the embattled EPA administrator leave his post.
Wheeler, a former energy and environment lobbyist with Faegre Baker Daniels, previously represented one of the nation's top advocates for a possible emergency government intervention in the nation's power markets: coal mogul Robert E. Murray.
Wheeler arranged at least one meeting last March between the Murray Energy Corp. chief executive and Energy Secretary Rick Perry to press for a host of regulatory actions, according to newly disclosed correspondence. Murray presented Perry with a four-page "action plan" recommending more than a dozen steps the Trump administration should take, including exiting the Paris climate agreement and repealing a landmark EPA finding that greenhouse gas emissions endanger public health.
By August, with Wheeler's help, the mining executive also was aggressively pushing President Donald Trump and top administration officials to take emergency action to keep coal power plants operated by one of Murray Energy's biggest customers online. Although the administration rebuffed Murray's initial entreaties, Trump's National Security Council is now debating whether the government should invoke wartime powers to stem closures of coal and nuclear power plants -- and how to tailor the intervention, including potentially forcing grid operators to buy electricity from the stations.
Wheeler allows that he "probably could" get involved with the issue now, under the strict terms of a recusal statement that allows him to sometimes participate in particular matters of general applicability. "But," he said, "I'm not going to."
"I had lobbied on that issue last year, and if I lobbied on something, I don't think it's appropriate for me to participate," he said.
Wheeler, who previously worked at the EPA on toxic chemicals, is leaning on that past as he tries to win trust with career employees at the agency, amid staff cutbacks and concerns the EPA is retreating from the fight against climate change. He is working in tandem with Pruitt to accelerate permitting and said he wants to boost the way EPA talks to communities about potential perils.
The EPA has to get better at telling affected communities about potential risks in straightforward, easy-to-understand ways -- erring on the side of speed, even if the agency must correct information later on -- Wheeler said.
The EPA is holding a series of hearings on perfluoroalkyl and polyfluoroalkyl substances and their effects as water contaminants amid concerns that the chemicals are more toxic than previously thought.
"I don't think the agency historically has done a consistent job of describing what the risk is that Americans face," Wheeler said, citing statements about air quality in New York after the 2001 terrorist attacks and the integrity of drinking water in Flint, Michigan. Wheeler said the burden falls disproportionately on the poor, "who often live the closest to facilities."