European Banks' First-Half Troubles May Continue in the Second
(Bloomberg) -- The first semester hasn't been a good one for European bank stocks, with the sector's benchmark being the worst performer in the broader gauge. And the second half doesn't look much better.
The Stoxx 600 Banks Index has fallen 13 percent since the start of 2018, with German lenders Deutsche Bank AG and Commerzbank AG leading the declines, down 43 percent and 35 percent, respectively. Only five of the gauge's 48 members are in the black.
Political turmoil in Italy and Spain, trade tensions between the U.S. and China, and the evaporation of hopes for an early interest rate rise have all contributed to the sector's woes. In addition, many lenders have had their own specific difficulties, with Deutsche Bank at the top of list as the German lender struggles to effect a turnaround.
"Banks are still not that cheap and as a rate hike is more than a year away there isn't ground for an aggressive call on the sector," Ruben de la Torre, a Madrid-based manager at Andbank, said by phone. "We are being more selective when investing in banks than last year."
The sector's malaise has put paid to a revival in 2017, when the banks index rose 8 percent following three consecutive years of losses. And there's a feeling among some investors that the pain may not be over yet.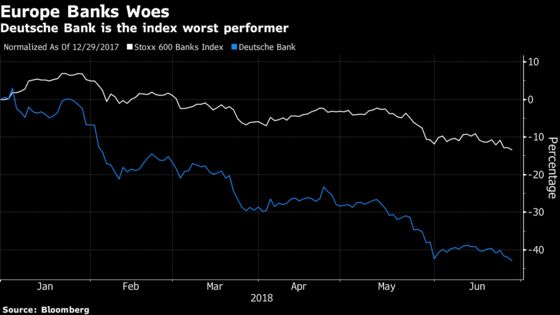 "Banking is still a difficult sector to invest, as it is very high leverage, so whenever the economy deteriorates or the uncertainty increases in some countries it gets hurt fast," said Christian Sole, fund manager at Candriam Investors Group, which manages about 112 billion euros ($130 billion). He doesn't see many near-term positive catalysts, saying most lenders aren't cheap, "even if they are cheaper and more solid than 10 years ago."
European bank stocks are trading at the lowest price-to-estimated earnings ratio since August 2016, when the region's financial shares collapsed amid worries about Deutsche Bank's future and as record-low interest rates dented lenders' profits.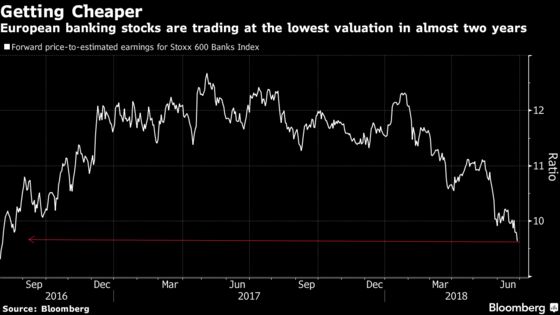 European Central Bank president Mario Draghi's recent declaration that there will be no interest-rate hikes before the end of next summer has served as an added blow to those banks that rely most on lending.
"It would be positive for Italian and Spanish banks because it would help them to rebuild their margins and profitability, so every time there is a delay in the hike it hurts the hopes of investors of a brighter future for banks," Sole said.
Not everyone is so pessimistic. Analysts at Keefe, Bruyette & Woods last week upgraded the recommendation on European banks from underweight to marketweight.
"Pressure on profitability will continue into first half results, but should be bottoming," KBW analysts including Daragh Quinn wrote in a June 21 note. "The sector may be a value trap, but the downside from current levels looks limited as earnings expectations stabilize".
KBW's top picks include Banco Santander SA, Royal Bank of Scotland Group Plc, CaixaBank SA, Natixis SA and Credit Suisse Group AG.