Emerging Markets on 'Tenterhooks' as Chinese Selloff Deepens
(Bloomberg) -- The rout in emerging markets deepened as investors sifted through the latest remarks from the Trump administration on protectionist measures, with both currencies and stocks on pace for their worst quarter since September 2015.
Every developing-nation currency tracked by Bloomberg retreated and a measure of shares extended a three-day drop to 3.6 percent. The Chinese yuan traded offshore slid for a 10th straight day in the longest losing streak since March 2014, while the Hungarian forint sank to a record low as the central bank maintained a dovish monetary stance. Argentina's Merval led global equity declines after disappointing economic data. The risk premium on sovereign bonds over U.S. Treasuries widened.
"Global markets remain on tenterhooks," said Shireen Darmalingam, a macro-economic strategist at Standard Bank Group Ltd. in Johannesburg. "Fresh tensions between the U.S. and China continued to damage sentiment and risk appetite for emerging-market assets."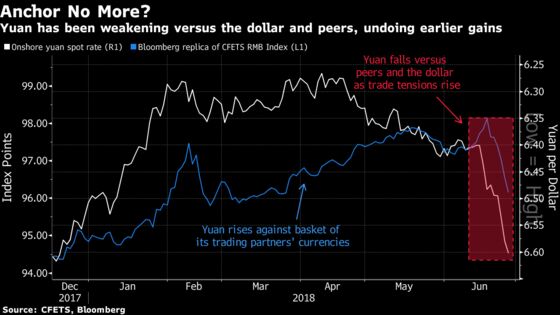 Investors are fretting over how a trade war between the world's two biggest economies could curb growth at a time when the Federal Reserve is accelerating its rate hikes and oil edges higher. While President Donald Trump suggested his administration wouldn't seek a hard line against Chinese investments, his top economic adviser Larry Kudlow said the talk doesn't amount to the U.S. retreating in its approach on trade. A leaked report from a Chinese government-backed think tank warned of a potential "financial panic."
"The volatility we're seeing in the yuan could reverberate across the rest of emerging markets given the size of the Chinese economy as well as the economic and financial linkages across the region," said Dushyant Padmanabhan, a currency strategist at Nomura Holdings Plc in Singapore.
HIGHLIGHTS:
MSCI Emerging Markets Index fell 1.8 percent to 1,048.99
CBOE Emerging Markets ETF Volatility Index climbed 12 percent
MSCI Emerging Markets Currency Index slid to lowest since November
Risk premium on EM sovereigns +6bps to 369bps: JPMorgan indexes
Buying emerging-market assets right now is "like catching a falling knife," Terri Spath, Santa Monica-based chief investment officer of Sierra Investment Management, said on Bloomberg TV

While valuations in certain EM countries look attractive, EM equities and debt are in a clear downward trend

"Emerging market local-currency debt is becoming attractively valued again," Julius Baer analyst Markus Allenspach wrote in a note. "Still, we maintain our unattractive rating as we are afraid that the unwinding of leveraged positions will continue for some time"
It's a Chinese Tech Wreck That's Crushing Emerging-Market Stocks
Emerging-Market Bonds to Struggle in Coming Quarter: Julius Baer
Amundi Prefers Stocks to Bonds While Still Favoring EM Debt
Two EM Powerhouse Currencies Wobble But Similarities End There
ARGENTINA:

Argentina's Merval Index sank 8.8 percent to 25,970.20, lowest in more than seven months
Peso fell 1.2 percent to 27.440 per dollar
Argentina Economy Posts Biggest Monthly Decline in Macri Era
Goldman Sachs says economy to remain "soft" in upcoming quarters
"Argentina is hurting as investors retreat from emerging markets and especially Latin America," says Allaria Ledesma analyst Christian Reosby phone. "The retreat from Argentina is exaggerated, at this point the drop has to do with flows and not fundamentals"

BRAZIL:

Ibovespa dipped 1.4 percent to 70,405.44
Real decreased 1.9 percent to 3.8747 per dollar
10-year local-bond yield increased two basis points to 11.97 percent
National monetary council tasked central bank with pursuing lower inflation, targeting 3.75 percent in 2021
Brazil Meatpackers Price Targets Raised by Citigroup

MEXICO:

Mexbol index declined 0.1 percent to 46,858.24
Peso decreased 1.3 percent to 20.2083 per dollar
10-year local-bond yield gained three basis points to 7.712 percent
Reforma poll conducted June 20 to 24 shows Andres Manuel Lopez Obrador leading closest opponent by 24 percentage points
Commerzbank said a win for Lopez Obrador Morena party in the Senate would put pressure on the Mexican peso
88% of investors see Lopez Obrador winning in landslide, while less than half expect him to secure a Congressional majority, according to Citigroup survey
TURKEY:

Borsa Istanbul 100 Index increased 1.6 percent to 95,954.81
Turkish lira fell 0.2 percent to 4.6247 per dollar
Stocks rise as investors adopt a wait-and-see stance before the new cabinet is announced in a few weeks
Yildiz Said to Attract Bids That Value Kumas at $500 Million

RUSSIA:

MOEX Russia Index surged 1 percent to 2,253.60
Ruble fell 0.4 percent to 63.25 per dollar
10-year local-bond yield rose one basis point to 7.77 percent
Russian President Vladimir Putin and U.S. National Security Adviser John Bolton expressed hope they could reverse the downward spiral in relations
Russia's Unpredictable Past Is Complicating Economy's Future

SOUTH AFRICA:

FTSE/JSE Africa All Share Index increased 0.2 percent to 55,369.3
Rand sank 2.6 percent to 13.9040 per dollar
9-year local-bond yield increased two basis points to 8.907 percent
South African Insurance and Bank Stocks Slump as Rand Weakens
Foreigners sold a net 1 billion rand ($75 million) worth of debt on Friday
IHS Towers Ltd. has postponed an initial public offering that would have valued the company at as much as $10 billion
Click for market news on POLAND and HUNGARY
CHINA:

Shanghai Composite Index declined 1.1 percent to 2,813.18, the lowest in more than two years
Offshore yuan dipped 0.3 percent to 6.6020 per dollar, the weakest in six months
10-year local-bond yield sank three basis points to 3.56 percent
China H shares joined Shanghai in bear market as weakness in the yuan hit companies ranging from airlines to property developers
Even the Big Investor Favorites Can't Escape China's Stock Rout
President Donald Trump signaled he may take a less confrontational path toward curbing Chinese investments in sensitive American technologies
Tumble in the yuan that's blindsided currency forecasters is now triggering warnings of potential contagion
The yuan's fastest fall since its 2015 devaluation risks reviving Trump's attacks on currency

INDIA:

Sensex Index sank 0.8 percent to 35,217.11
Rupee decreased 0.6 percent to 68.634 per dollar
10-year local-bond yield climbed four basis points to 7.8708 percent
USD/INR NDFs rise across the curve amid gains in oil prices, that threatened to stoke inflation in India
Indian equities fell as rising oil prices pushed stocks of refiners lower
Bad loans at Indian lenders are set to climb to a near two-decade high

Click for more on markets in ASIA