BJ's Wholesale Rises Amid Year's Busiest U.S. IPO Week
(Bloomberg) -- BJ's Wholesale Club Holdings Inc. closed up 29 percent after raising $637.5 million in its initial public offering, leading the busiest week in three years for U.S. listings.
Shares in the grocery and consumer goods membership club opened at $21.25 per share in New York after selling 37.5 million shares at $17 apiece on Wednesday, at the top of its marketed range. The shares rose as much as 32 percent in their trading debut Thursday before closing at $22, valuing BJ's at $2.78 billion in its return as a publicly traded company.
BrightView Holdings Inc., with the second-biggest of 12 U.S. IPOs set for this week, raised almost $469 million in its offering that also priced on Wednesday. BrightView priced its 21.3 million shares at $22 each after marketing them for $22 to $25. Its shares closed down 2.7 percent at $21.40 in its trading debut Thursday.
The dozen listings top the 10 last week and are the most since 2015, when 14 IPOs priced during the week that began June 22, 2015, according to data compiled by Bloomberg.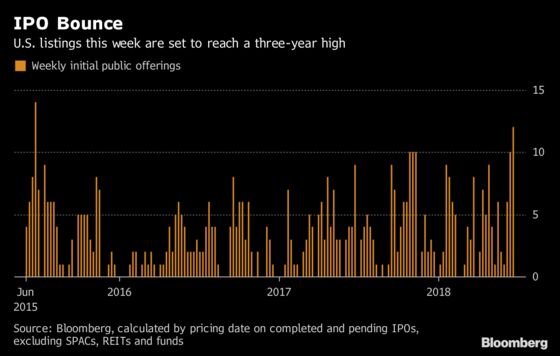 In what will likely be the third-biggest IPO this week, Chinese online used car selling platform Uxin Ltd. raised $225 million in a downsized offering that priced below its target range on Tuesday. Uxin's shares rose as much as 17 percent from its offer price of $9 a share in its trading debut Wednesday. Its shares rose 1 percent to $9.77 Thursday.
BJ's was taken private in 2011 by CVC Capital Partners and Leonard Green & Partners, which paid $51.25 a share in a deal that valued the company at about $2.8 billion. Since then, BJ's has opened 25 new stores and spent more than $230 million to improve its systems and technology, according to a filing with the U.S. Securities and Exchange Commission. It said it now operates 215 stores in 16 states.
The company, based in Westborough, Massachusetts, posted net income of $50 million for the year ended Feb. 3 on total revenue of almost $12.8 billion, according to the filing. That compares with profits of $44 million on $12.4 billion in sales for its previous fiscal year.
BJ's is listed on the New York Stock Exchange under the symbol BJ. Bank of America Corp., Deutsche Bank AG, Goldman Sachs Group Inc. and JPMorgan Chase & Co. led the offering.
BrightView, based in Plymouth Meeting, Pennsylvania, trades on the NYSE under the symbol BV. The banks leading its IPO included Goldman Sachs and JPMorgan.