Bed Bath & Beyond Drops Even as It Gains Ground in Online Battle
(Bloomberg) -- Bed Bath & Beyond Inc. is still on the brink as a costly battle to ward off Amazon.com Inc. and other e-commerce sellers isn't enough to counteract lower in-store sales.
The home goods retailer, which has been spending heavily to fight encroaching online competitors, posted an unexpected drop in same-store sales for last quarter. Disappointed investors drove the shares down as much as 9.6 percent in after-market trading Wednesday in New York.
The results follow heavy spending by the retailer to revamp both its brick-and-mortar stores and online presence. The investments -- which include new store formats, loyalty programs and a strengthened supply chain -- were pricey but not enough to shift a changing tide in retail. Same-store sales slipped 0.6 percent, missing the 0.1 percent gain analysts had been expecting, according to Consensus Metrix. Strong digital sales growth helped offset a "mid-single-digit" decline in comparable sales in physical stores, the company said in a statement.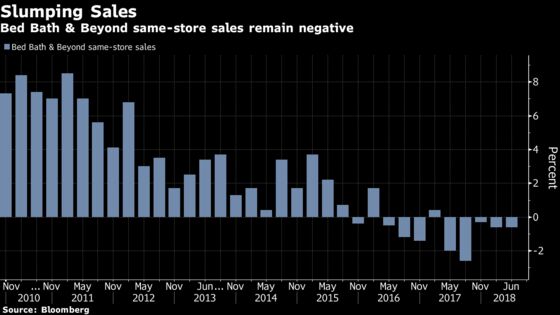 More so than some other traditional retailers, Bed Bath & Beyond faces increasing pressure as a result of selling items that consumers can easily purchase online. Chief Executive Officer Steve Temares has said his team is moving to transform stores to dedicate more space to so-called "deep value" items -- including consumables such as food, health and beauty products -- and "treasure hunt" items to drive foot traffic. But consumables are typically low-margin goods, leaving some investors concerned about declining profit margins
Shares of the Union, New Jersey-based retailer dropped as low as $18.25 following the close of regular trading, after falling 8.2 percent this year through Wednesday's close.