The Oil Splurge Is Winding Down and These Citizens Will Have to Pay Up
(Bloomberg) -- Norwegians now face a wake-up call after years of keeping the economy afloat with oil cash, the country's finance minister warns.
The government is gradually removing support for the economy, which is moving solidly out of recovery mode to an expansion that could soon bump up against capacity restraints.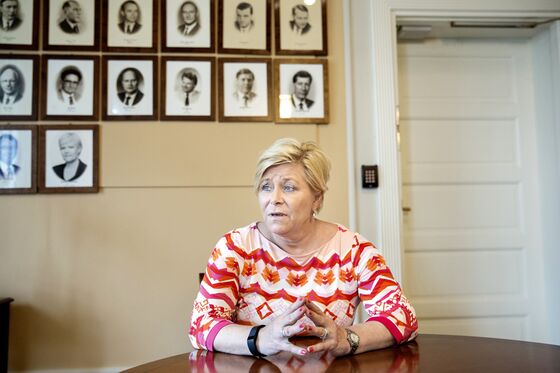 In an interview on Monday in Oslo, Finance Minister Siv Jensen said that means the days of easy budget cash is over. "There is no point in having training wheels if there's no need for them," she said.
In a response to the downturn in the country's bellwether oil industry, Norway's center-right government plowed a record amount of oil wealth into the economy, including withdrawing cash from its $1 trillion wealth fund for the first time in 2016. This year, the government plans to spend 225 billion kroner ($28 billion) of oil wealth, equal to almost 8 percent of its economy.
Helped by a broad-based upswing in global financial markets, the government managed to boost fiscal spending while staying within a rule that caps oil wealth spending to 3 percent of the total capital in the wealth fund, the world's biggest.
But given the massive amount spent over the past years, the scope for increasing spending at the same pace over the next years is limited. Oil income will also start to fade as production plateaus over the next decade.
"Norway will be more like other countries in terms of spending and government budgets, this will challenge parliament and all of us on how to prioritize," Jensen said.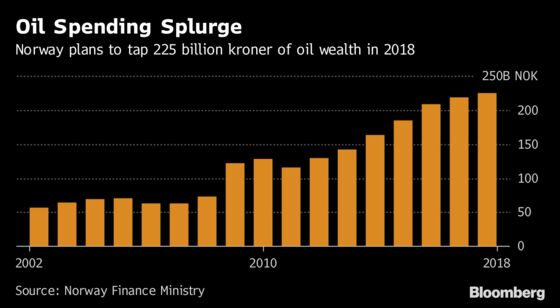 To be sure, Norway will continue to have a massive backstop. Record spending manage to keep the economy out of an outright recession over the past years and while unemployment grew it never reached above 5 percent.
The system proved resilient, and also proved Norway can manage large financial dislocations, according to Jensen.
"The fact that the wealth fund is long term means that we can withstand short-term losses since it would normally recover over time," she said. "At least that's what we have experienced so far," she said, alluding to the global melt down in financial markets when the fund's value dropped by 23 percent in 2008.
While growing trade turmoil and the British exit from the EU pose threats to the economy, the minister points to elevated household debt as the biggest cause for concern. As the central bank now readies to raise interest rates for the first time in seven years, higher rates may reveal vulnerabilities, according to Jensen. The government decided earlier this month to extend the clamp-down on mortgage lending and also flagged it would consider regulations on consumer lending.
"The lending regulations are working," Jensen said.
Unwilling to ease the government's grip on bank lending, the finance minister instead warns of the consequences of looser rules. "To let go and let the housing markets gallop ahead is not the answer," she said. "Then its better to have a coordinated strategy to manage the development in the housing market."