Oil Climbs as Huge U.S. Supply Draw Seen Adding to Global Risks
(Bloomberg) -- Crude climbed after an industry report was said to show the biggest drop in U.S. crude stockpiles since September 2016.
Futures climbed from the settlement after the industry-funded American Petroleum Institute was said to report nationwide crude stockpiles tumbled by 9.23 million barrels last week, the biggest decline since September 2016 if the Energy Information Administration confirms it on Wednesday. An outage at a Canadian oil-sands upgrader, combined with tensions in Libya and U.S. pressure on allies to cut Iran imports to zero by November all pushed prices higher during the session.
"That's certainly very bullish news," said James Williams, president of London, Arkansas-based energy researcher WTRG Economics. "All of these things that have happened, especially Syncrude, the primary impact has been on the front-month" futures contract, he said.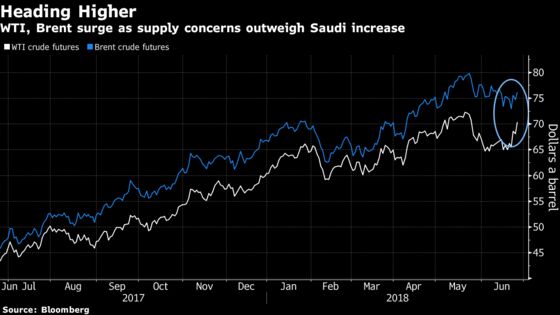 During the session, news broke that Saudi Arabia was said to plan to pump a record amount of crude in July, leading prices to drop briefly.
"Even if Saudi Arabia is ramping up, there's enough concern in the market about production shutdowns, whether it's Canada, Libya, to hold these prices up," said Rob Haworth, who helps oversee $151 billion at U.S. Bank Wealth Management in Seattle. "It's a market that still has a bullish bias to it."
In Libya, forces loyal to Khalifa Haftar, a commander in the politically divided nation's eastern region, turned over ports with a combined export capacity of 800,000 barrels a day to the National Oil Corp. in Benghazi, a city in the east.
Some of the Libyan ports are going to be "administered by the wrong person at this point," said Bob Yawger, director of futures at Mizuho Securities USA Inc. in New York. "That could be a problem. It looks like those barrels won't have the blessing of the UN."
West Texas Intermediate crude for August delivery traded at $70.68 a barrel at 4:59 p.m. after settling at $70.53 a barrel on the New York Mercantile Exchange. Total volume traded was about 20 percent above the 100-day average.
Brent futures for August settlement rose $1.58 to end the session at $76.31 a barrel on the London-based ICE Futures Europe exchange. Brent traded at a $5.78 premium to WTI.
State oil company Saudi Aramco is aiming to boost production next month to about 10.8 million barrels a day, according to people briefed on the country's output policy, who asked not to be named discussing confidential information. That would surpass the previous high of 10.72 million barrels a day in November 2016.
"They always increase crude production at this time of year because they burn crude directly to utilities" to meet summer air conditioning demand, said Thomas Finlon, director of Energy Analytics Group LLC in Wellington, Florida. "Pending that, 800,000 barrels a day, even with the increase in cooling needs, feels like a pretty substantial increase."
Meanwhile, U.S., crude stockpiles probably fell 3 million barrels last week, according to a Bloomberg survey ahead of the release of Energy Information Administration data on Wednesday.
The API was also said to report supplies at Cushing, Oklahoma fell by 1.74 million barrels, while gasoline and distillate inventories rose.
Gasoline futures rose 1.1 percent to settle at $2.0746 a gallon.
In Canada, a key piece of equipment at the Syncrude oil-sands complex in Alberta halted operations last week after a transformer blast shut the entire 350,000 barrel-a-day facility. Syncrude is assessing the disruption and conducting a "return to service plan," plant controller Suncor Energy Inc. said.
Baker Hughes will emerge from the shadow of parent General Electric Co. amid unprecedented turmoil and dislocation in the global oil business.