Insulin Pump Maker's 900% Stock Surge Has More Room to Run
(Bloomberg) -- Tandem Diabetes Care Inc. bulls still see upside for the insulin pump maker, even after shares increased ten-fold so far this year.
Sell-side analysts rushed to boost their price targets for one of the Russell 2000 Index's best performers in the wake of last week's Food and Drug Administration approval of a technology for the company's insulin pump.
Piper Jaffray analyst JP McKim called the approval a "game changer" that will help attract patients and give them reason to upgrade to newer pumps. Shares pared some of the recent rally, dropping 4.4 percent to $22.50 at 10:24 a.m. in New York.
The manufacturer of the only touchscreen insulin pumps available in the U.S. has seen its market cap skyrocket to more than $1.1 billion from less than $24 million.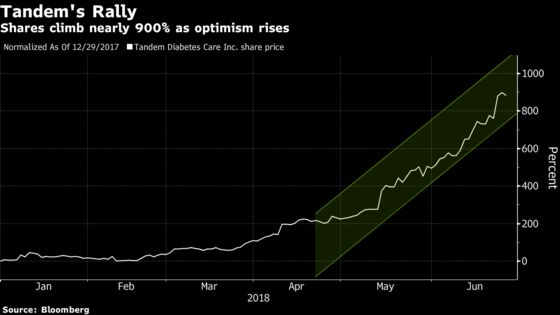 Investors have been focused on Tandem's U.S. catalysts ahead of its Basal-IQ system launch in August. On top of that, it has opportunities with plans for international expansion beginning later this year, as rival Johnson & Johnson exits the insulin pump system market. Johnson & Johnson's move will likely add $12 million to 2018 sales before rising to $22 million in 2019, Oppenheimer analyst Steven Lichtman estimates.
To be sure, the San Diego-based device maker is not alone in its strong start to the year ahead of Johnson & Johnson's exodus. Peers including DexCom Inc. and Insulet Corp. have gained 67 percent and 35 percent, compared to a 2.5 percent rise in the Russell 3000 Index.