Nvidia's $7 Billion Erasure a Blip for Analysts Who Love It
(Bloomberg) -- Analysts are coming to the defense of Nvidia Corp. after Monday's trade tension inspired bloodbath in the tech sector lopped off more than $7 billion from the chipmaker's market cap.
The company remains on pace to profit from data center and gaming trends, according to Benchmark and B Riley FBR analysts. Investors seem to be ignoring news from over the weekend of the U.S. claiming the most powerful supercomputer in the world -- an IBM-built machine equipped with six of Nvidia's Tesla V100 graphic processors.
Shares were up 30 percent for the year before yesterday and analysts are shaking off trade war fears, agreeing there's more to come. The stock rose 1.6 percent as of 1:22 p.m. in New York, after sliding 4.7 percent Monday.
Nvidia's "recent and potential future performance reflects a compelling and consistently refreshing processor solution," says B Riley FBR Inc. analyst Craig Ellis in a note, citing growth tailwinds for its long term data center platform. Nvidia has 28 buys, 12 holds and 2 sells, according to data compiled by Bloomberg.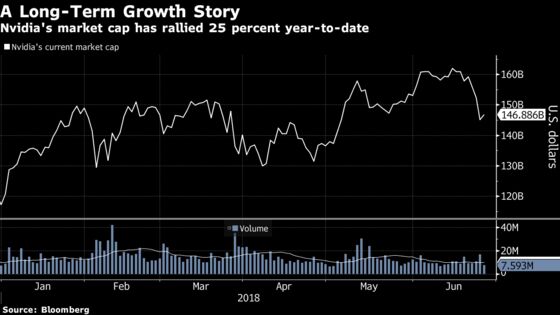 The data center business is still in its "early innings," says Benchmark analyst Mike Burton, Wall Street's newest bull after initiating coverage with a buy rating and $280 price target. And the chipmaker's "core franchise" is the rapidly-growing gaming graphics card market, which should expand given Nvidia's upcoming product cycle with ray tracing, a technique Burton says is touted as "the biggest advance in computer graphics in nearly two decades."