Commonwealth Bank's Wealth Unit Spin Off May Be Worth as Much as AMP
(Bloomberg) -- Commonwealth Bank of Australia's plan to spin off its wealth management and mortgage broking units may create a business as large as AMP Ltd. as Chief Executive Officer Matt Comyn embarks on an overhaul of the scandal-plagued lender.
The new unit, known as CFS Group, may be worth A$5 billion ($3.7 billion) to A$10 billion, according to analysts. That's just outside the top 10 financial stocks in Australia, trailing AMP Ltd. at ~A$10.3 billion, according to data compiled by Bloomberg.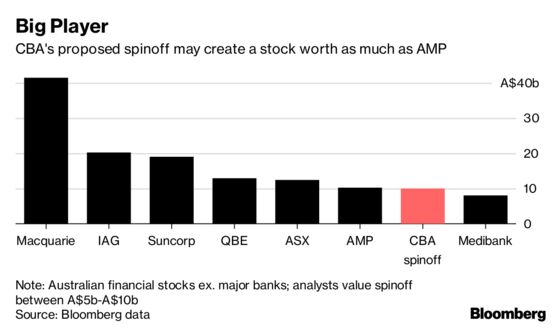 The plan announced Monday rids the bank of businesses that have inflicted significant reputational damage and face the prospect of more regulation. Wrongdoing in the advice and insurance units helped trigger an inquiry into misconduct in the financial services industry that have shocked the public and led analysts to expect a tougher future.
For more detail on the planned spin off, click here
CBA has "taken a leaf" out of National Australia Bank Ltd.'s playbook when it spun off CYBG Plc. as it also considers a sale and partnership arrangement for its general insurance arm, Bell Potter analyst T S Lim said. "This is part of its derisking strategy."
Here's what analysts are saying about spin off:
Sees wealth management unit ex-Aussie Home Loans worth A$6.5b-A$10b; Unit ex-general insurance contributes ~A$530m to cash earnings and ~5% of FY19 cash NPAT
Co. could incur potential remediation costs similar to ANZ's deal with IOOF; capital injections may be needed given likely investment needed in medium-term to support the businesses
CBA's sustainable payout ratio, dividends, to fall by 2% and 7% respectively after demerger
Expect insurance business to be divested given focus on core business
Maintains neutral, PT A$75.50
Unit valued at A$6.5b-A$7.5b
Share reaction "expected" but "unwarranted"; implication of lower dividends assuming payout ratio unchanged "probably spooked the market"
Core bank would now be de-risked; overall dividends to shareholders should be unchanged and carry lower risk
Errors in co.'s decision about two decades ago stating the future in banking is life insurance, wealth management "are easy to see" with increased reputational and earnings risk
Spun off entity should be worth at least A$5b
Maintains buy, PT A$78
A "neat exit" from wealth and a significant refocusing of the business
Spin off unlikely a catalyst for stock; there's limited impact on returns in short term
Maintains hold, PT A$76
5 buys, 9 holds, 2 sells; avg PT A$76.03: Bloomberg data
Shares down 10% YTD as of Monday's close vs ASX 200 Index up 2.4%