AmEx Extends Win Streak With Amazon Card for Small Businesses
(Bloomberg) -- American Express Co. won the right to issue a new credit card for Amazon.com Inc.'s small-business customers, the latest win in a string of co-brand deals for the lender.
Amazon will also provide line-item detail on transactions AmEx corporate and purchasing-card customers make on the retailer's website, giving shoppers more data to control their business purchases, New York-based AmEx said Tuesday in a statement.
AmEx has been spending more to ink card deals after parting ways in 2016 with Costco Wholesale Corp., which was its largest co-brand partner at the time. Last year, AmEx won dual-issuing rights with JPMorgan Chase & Co. for Marriott International Inc.'s suite of cards and the exclusive ability to issue credit cards for Hilton Worldwide Holdings Inc. AmEx has said renewing those two deals will crimp earnings by more than $200 million this year.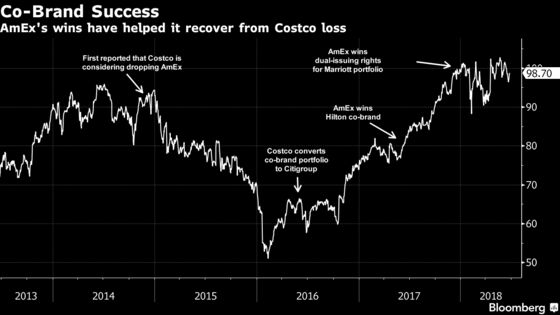 "When we look at our card-member relationships -- they definitely purchase on Amazon," Glenda McNeal, president of enterprise strategic partnerships at American Express, said in a telephone interview. For the company's small-business customers, "being able to provide incremental value to them through a partnership we create is always something we're looking to do."
American Express climbed 0.4 percent to $98.19 at 9:56 a.m. in New York. McNeal said the two companies are still negotiating the rewards program and timing for the card's debut.
"The new Amazon co-brand card speaks positively about AXP's competitive positioning within the market, particularly in the small business space, as evidenced by the company being able to win it from large bank issuer competitors," Sanjay Sakhrani, an analyst at Keefe Bruyette & Woods Inc., said in a note, referring to the company by its stock symbol.
Amazon hopes to supply small companies with everything from office supplies to factory parts. Last year, it started a Prime membership program offering fast free delivery for businesses. For the past seven years, it's used data from 2 million merchants to offer loans to small businesses, which use the credit to buy more inventory or expand their businesses with new products.
U.S. card issuers have boosted rewards on proprietary small-business cards and started co-branded offerings as the competition for spending continues to heat up. AmEx says it's the top card issuer for U.S. small businesses with a portfolio larger than its five nearest competitors combined, according to an investor presentation from March.