After Floods, Famine, Malawi's Leader Is Bullish on Growth
(Bloomberg) -- Malawian President Peter Mutharika had to deal with devastating floods, a famine and a foreign-aid freeze during his first term. Now, he's seeking re-election to tackle the challenges of attracting billions of dollars in investment and reducing the economy's reliance on tobacco.
Mutharika, 78, is expected to be the sole contender for the leadership of the ruling Democratic Progressive Party when it meets next week. With the opposition fragmented and a first-past-the-post election system that awards the presidency to the candidate who gets a plurality of votes, Mutharika is the frontrunner to win the May vote.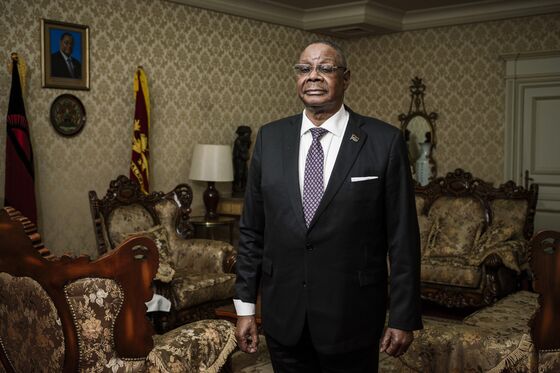 "We have started so many things. I would like to complete them," Mutharika, an international and constitutional law expert who studied at the University of London and Yale and taught at Rutgers University in New Jersey, said Monday in an interview at his offices at the ornate Kamuzu Palace in the capital, Lilongwe. "People have seen what we have done. I think they will return us for another five years."
The year after Mutharika took power in 2014, floods that wracked the southern African nation and forced more than 200,000 people from their homes and killed at least 176 were followed by drought and widespread food shortages. Rebuilding efforts were hampered by a foreign-aid freeze after a scandal during the previous administration known as Cashgate that saw as much as $33 million allegedly looted from state coffers.
Opposition may still come from a former ally. Mutharika's deputy, Saulos Chilima, announced this month he will leave the DPP, saying corruption in the government has reached an "alarming rate" and that people have lost faith in the party. While Chilima said on June 6 that he hadn't made a decision on whether to form a new party, a group within the DPP had urged him to challenge Mutharika.
Mutharika said his government took painful steps to stabilize the economy and the currency, the kwacha, and brought inflation down from a peak of 24 percent to 7 percent. He expects the growth rate to reach as high as 5 percent in 2018 from 4 percent last year and is optimistic the shift in sentiment against emerging markets won't have a major impact on the $6.2 billion economy. The kwacha is at 725.5 per dollar.
While the European Union, U.K. and other country donors have yet to resume direct aid, the International Monetary Fund granted Malawi a three-year $112.3 million loan in April, saying its macroeconomic situation has improved "substantially." The Washington-based lender did raise concerns about rising government debt.
The government responded this week by trimming planned spending and cutting the budget deficit to 3.8 percent of gross domestic product, from 4.5 percent, according to Mutharika. A hiring freeze has also been implemented for most posts.
"Whatever money we are borrowing, we use that money for investment and not for consumption," he said. "We certainly would welcome the resumption of budgetary support on a temporary basis, a couple of years, until the time we are self-sustaining."
The diversification of the agriculture-reliant economy is a top priority, Mutharika said. Tobacco is Malawi's largest export earner, and the country is Africa's biggest supplier of the burley variety of the crop, which is used to fill cigarettes rather than flavor them. Groundnuts, legumes and soybeans are among the crops that are being considered as alternatives.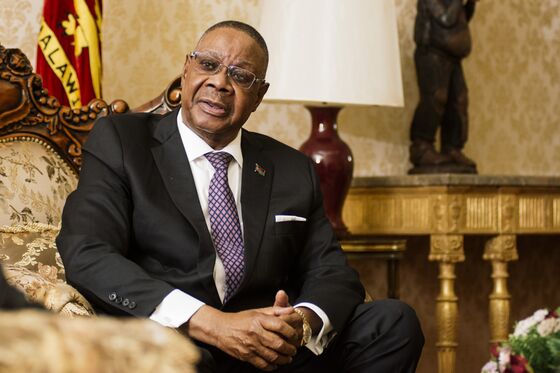 "Tobacco is likely an endangered industry in the long run," Mutharika said. "We simply have to move to other crops gradually. It's hard to put a timeline to it. I would hope over five or 10 years, or maybe even less, we would wean ourselves away from tobacco."
One major irrigation project being developed on the banks of the Shire river in the southern part of the country will cover 4,000 hectares (9,884 acres) and be used to grow a variety of crops, Mutharika said. The World Bank will help fund the first phase of the project, which will cost about $350 million, while a second phase costing almost $400 million will aim to draw in as many as 40,000 local farmers and private investors, he said.
Malawi's efforts to build up its mining and manufacturing industries have been constrained by crippling power shortages that result in blackouts of as long as 16 hours a day. The government wants to increase supply to at least 1,000 megawatts, from 350 megawatts currently and for private investors to help fund new plants.
"We hope that by March next year, we will add another 100 megawatts and that will substantially reduce the blackouts," Mutharika said. "I think by 2020 we will reach a point where we no longer have the blackouts."
Once there is adequate power, Mutharika expects the mining industry to take off. The country has a number of substantial deposits of coal, uranium and cobalt that could be tapped, he said. Other industries that are being targeted for more investment include tourism, healthcare and construction.
"If we don't have other challenges like floods or hunger and other natural catastrophes, I think we should be able to sustain the growth," he said. "We should be able to reach 6 percent in two or three years."