Venezuela Investor Group Says Creditors Must Be Treated Equally
(Bloomberg) -- A group of investors holding more than $8 billion of bonds issued by Venezuela and its state-owned companies said that nation must treat its creditors equally, and it won't support any debt restructuring that doesn't.
The committee, which is being advised by Mark Walker of Millstein & Co., said in a statement Monday that it wishes to put the nation "on notice that it will hold Venezuela and PDVSA responsible for all costs and expenses incurred in investigating all defaults and pursuing any and all remedies available," and "commits to seek to resolve Venezuela's debt problems in a way that will assure fair treatment of all creditors of equal rank."
While the nation has missed almost $4 billion of payments coming due since last year, it has managed to stay current on a few bonds that it views as a strategic priority, raising objections from holders of the other notes. The nation -- mired in its worst-ever recession -- is subject to U.S. sanctions aimed at restricting financing for President Nicolas Maduro's regime, meaning American investors are prohibited from engaging in a debt restructuring.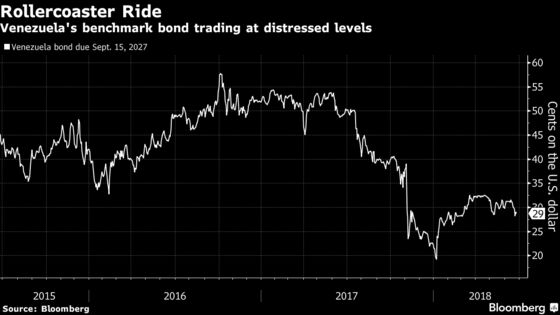 The few payments that have made their way to investors include $107 million in interest due in April from state oil company Petroleos de Venezuela on secured bonds that mature in 2020, and a $90 million payment in February on notes maturing in 2022, securities that have become known as "hunger bonds."
The group said in the statement that it won't support any debt workout that doesn't provide "for comparable recoveries for all similarly situated creditors."
Bloomberg reported in April that the Millstein group has about 15 members, mostly long-term investors rather than hedge funds. The biggest publicly reported holders of Venezuela and PDVSA bonds include Fidelity Investments, BlackRock Inc. and Allianz SE. They were among those said to have been included when the group was first organizing.
The nation's bonds have plunged below 30 cents on the dollar since Maduro announced in November that he'd seek to renegotiate the nation's debt, and then failed to clarify any details of his plans to investors.
A resolution for bondholders may be nowhere in sight after Maduro secured another six-year term in elections last month. Still, they've grown restless despite limited options. Some of PDVSA's secured creditors hired law firm White & Case LLP to advise them, while a group that owns more than 15 percent of Venezuela's 2034 bonds hired Mark Stancil of Robbins, Russell, Englert, Orseck, Untereiner & Sauber LLP to "evaluate multiple enforcement actions" on their notes.
While bondholders have remained in limbo, some companies owed money by the state have pushed ahead with efforts to pressure it into repaying. White Beech SNC, a Delaware entity holding $25 million of unpaid promissory notes that were originally issued by PDVSA to SNC-Lavalin Group Inc., sued the oil company in May for repayment on principal and interest. ConocoPhillips obtained court orders freezing PDVSA assets in the Caribbean, blocking the company from using its terminals in the region.
If their efforts prove successful, that "may begin a race to the bottom for strategic assets outside of Venezuela," Cleary Gottlieb Steen & Hamilton LLP attorneys Richard Cooper and Boaz Morag wrote in a report last month. "If this risk materializes, a cascade of litigation and enforcement actions against the Republic and PDVSA is likely to follow."