Party City Opening Pop-Up Stores to Draw Former Toys 'R' Us Kids
(Bloomberg) -- The demise of Toys "R'' Us in the U.S. has left billions of dollars in sales up for grabs, and Party City Holdco Inc. is going after that gaping hole.
Party City plans to operate 50 pop-up toy stores from September through the holiday-shopping season, possibly in former locations of the defunct chain, executives said in an interview. The assortment will include top brands from Hasbro Inc. and Mattel Inc. and plenty of Santa suits and stockings for Christmas.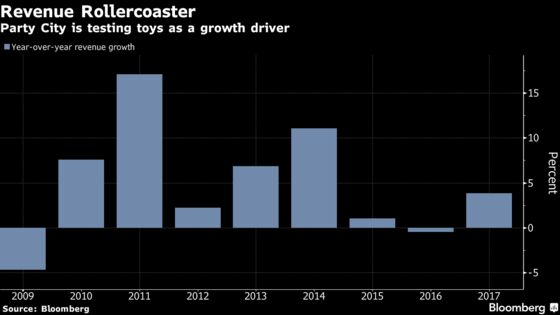 Party City is also adding more toys to its website as part of a push into the category. If the pop-up pilot goes well, the company will likely expand the format next year.
"There have been years and years of a standalone toy store that is now gone," said Ryan Vero, Party City's president of retail. "Customers are going to be looking for something to fill that void, and we intend to do that."
One of the big questions since Toys "R'' Us began liquidating its U.S. business earlier this year was which retailers would go after its customers. So far there have been few signs that other major outlets for toys, like Walmart Inc. or Target Corp., were expanding offerings.
That's likely to change, but for now Party City is making the plunge. The company considered the strategy for several years and then accelerated plans with the struggles of the last national toy chain, whose jingle "I don't want to grow up, I'm a Toys 'R' Us Kid" became part of the American lexicon in the 1980s. The long-time industry leader not only faced increasing competition from Walmart and Amazon.com Inc., but was buried under $5 billion in debt from a 2005 leveraged buyout.
In addition to its more than 900 stores, including franchises, in the U.S. and Canada, Party City has been running temporary Halloween City locations for the past decade. Last year, about 250 pop-ups generated $54 million of the company's $2.37 billion in total sales.
Shares of Party City climbed 14 percent this year through Friday's close, outpacing the 3 percent gain in the S&P 500 Index.
The Halloween pop-ups made testing what it's calling "Toy City" easier because the company already hires seasonal workers and leases locations. The Halloween concept often gets placed in former big-box stores, and at about 10,000 square feet it doesn't use all the space. So under the same roof, there was room to add 5,000 square feet of toys and Christmas gear.
Executives also predict they'll have an easier time hiring temporary workers because they can now offer work from mid-August to early January, instead of ending just after Halloween. It will also give them an advantage in leasing better locations because landlords are looking for a toy presence to replace Toys "R" Us, according to Chief Financial Officer Dan Sullivan.
"For the landlord, it's a toy store in the center for the fourth quarter," Sullivan said. "There's not much more attractive than that."