Meituan's a Giant With a Big Belly and a Long Tail
(Bloomberg Opinion) -- Meituan Dianping posted some pretty impressive growth numbers last year.
Transaction volumes climbed 73.6 percent, revenue was up 161 percent, and operating loss narrowed 39 percent.
VC investors will be pleased, while prospective public shareholders will be enticed. But buried in the numbers outlined in the Chinese internet company's 577-page prospectus are some elements that should give pause.
Put simply, its business is very concentrated and traction isn't as strong as at first appears.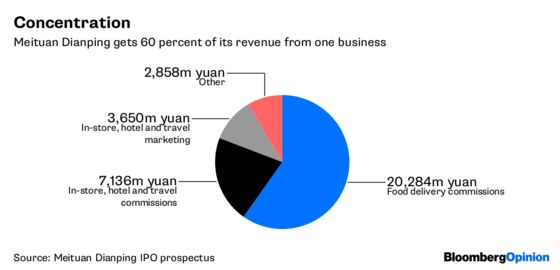 Meituan is in the online-to-offline business, connecting consumers with service providers as diverse as hotels, restaurants and taxis. Yet almost 60 percent of its revenue last year came from commissions on food delivery.
At the same time, annual transactions per user climbed 46 percent to 19 apiece, according to the prospectus. That's just one takeaway food delivery, ride hail, or hotel booking every 19 days. Not exactly ubiquitous, despite what it says.
"Our leadership in these core categories allows us to attract a large and growing consumer base, increase user stickiness and cater to evolving consumption habits."
Meituan bulls would look at that figure and see the upside potential, especially when revenue booked per yuan of transactions — aka monetization rate — climbed to 9.5 percent in 2017 from 5.5 percent a year earlier.
However, transaction value per user rose an anemic 26 percent last year. Which means that those who have signed up aren't increasing the amount they spend by very much.
Exacerbating this is the high concentration of activity among a small number of customers. Meituan's top 10 percent of users transacted an average 98 times in 2017, accounting for 52 percent of total volume. That means they were 10 times as active as the other 90 percent.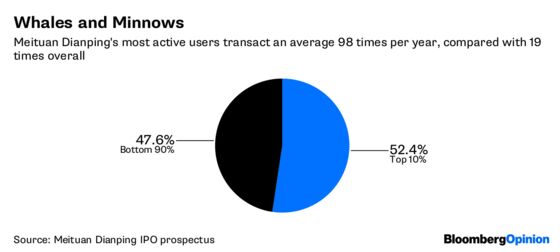 And although the company offers hotel bookings, ride-hailing and travel, it's food delivery that remains the dominant contributor, accounting for 71 percent of all transactions on the network last year. That means Meituan really does rely on one service for the meat of its business and gets the rest from a long list of small contributors.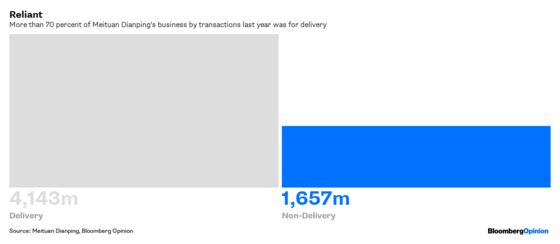 It's possible that Meituan will successfully evolve beyond this core — especially after merging with rival Dianping — but given that it's already been operating for eight years, investors should be aware that this is a company with a big belly and a long tail.