Kicking Bank Habit Is a Growing Trend for Small Portuguese Firms
(Bloomberg) -- When the founders of Portugal's Sensei wanted funding for their startup this year, they didn't go to a bank. They turned instead to a food retailer.
Sensei, whose algorithm helps retailers detect empty shelves and real-time customer movement in stores, secured 600,000 euros ($696,000) in the so-called pre-seed stage from investors including German food wholesaler Metro AG and a unit of Portuguese supermarket owner Sonae SGPS SA. The retailers got stakes in the startup in exchange.
"Banks are risk-averse when it comes to ventures," Vasco Portugal, Sensei's chief executive officer and a Massachusetts Institute of Technology researcher, said in an interview. "When you're starting out, it's difficult to align cash flows with a loan payment structure. Plus, investors bring an incalculable experience beyond capital."
Sensei's model may increasingly be adopted by other small and medium-sized companies, which form the backbone of the Portuguese economy -- only 1,038 of the country's 1.2 million businesses didn't fall in that category in 2016. As banks struggle to crawl out from under mountains of bad loans, they have been reluctant to make new loans to companies with short track records, prompting such entities to seek out other forms of financing.
Four years after exiting its international bailout, Portugal is still one of the most leveraged economies in the European Union, with private debt hovering above 170 percent of gross domestic product. The legacy of non-performing loans, mostly from the corporate sector -- accounting for about two-thirds of bad loans -- remains a key weakness for banks.
According to a joint statement in June by the European Commission and the European Central Bank, the high bad loans "hinder a more efficient allocation of resources in the corporate sector and thus weaken potential growth."
That's driving companies looking to profit from a rebound in the region's economy to increasingly look for other sources of funding.
Albano Fernandes, the founder and CEO of shoe manufacturer AMF Safety Shoes in Guimaraes, in northern Portugal, decided to turn his company around and focus on making technical footwear for workers in 2005. Instead of taking out a loan, he sold a 50 percent stake to a partner, pledging to reinvest the proceeds in the company. AMF expects sales to increase more than 20 percent to 14 million euros this year and wants to have close to 20 million euros in revenue in the next five years.
"Sometimes it's better to divide to grow," Fernandes said on May 17 at a bustling shoe industry conference in Oporto, in northern Portugal, adding that a lot of people had tried to talk him out of selling the stake. "The big problem we have at Portuguese companies is that many times they're just focused on the immediate term and don't realize that a company that doesn't make money and invest will surely die tomorrow."
The Portuguese economy grew 2.7 percent in 2017, the fastest since 2000. New bank lending to companies is still below the level in 2014, when the country exited its international bailout program. That's even though loans to large companies have shown signs of a rebound from last year. Meanwhile, mortgage lending and consumer borrowing have surged.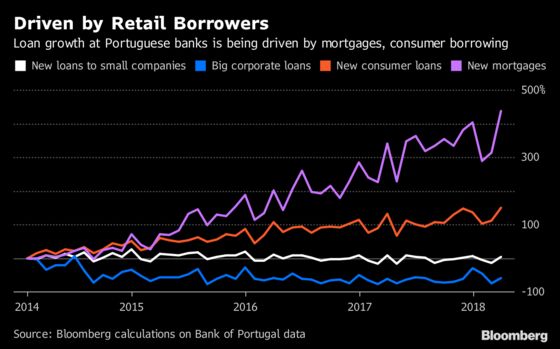 Portuguese banks are still trying to whittle down their stocks of bad loans and focusing on streamlining their businesses after the financial crisis. Non-performing loans declined last year, but the ratio is still one of the highest in Europe at 13.3 percent as of December, according to the Bank of Portugal.
Read more: Novo Banco, Caixa Geral Are Said to Sell $2.1 Billion Bad Loans
"We went from too much to not enough," said Pedro Capucho, an economist at the Confederation of Portuguese Business, which represents more than 114,500 companies. "What's worrying is that even loans to exporting companies are declining, although the latest numbers show a slight recovery."
Tourism and exports have been driving the country's economy and the government forecasts growth will now slow to 2.3 percent in 2018 as exports decelerate. If companies that need to invest aren't finding financing, export growth is bound to slow, Capucho said.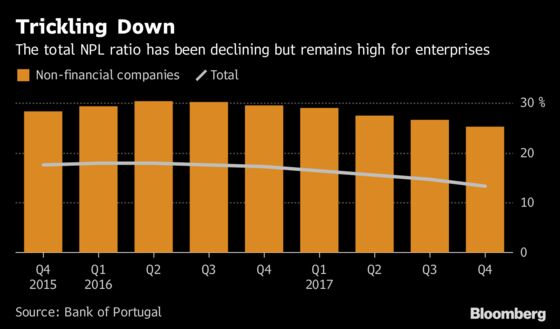 The good news may be that Portuguese companies are becoming less reliant on bank loans. The Bank of Portugal said in May that together with growing foreign direct investment there are signs that companies are using their own funds, especially small- and medium-sized firms, which usually don't have the scale needed to tap the corporate bond market.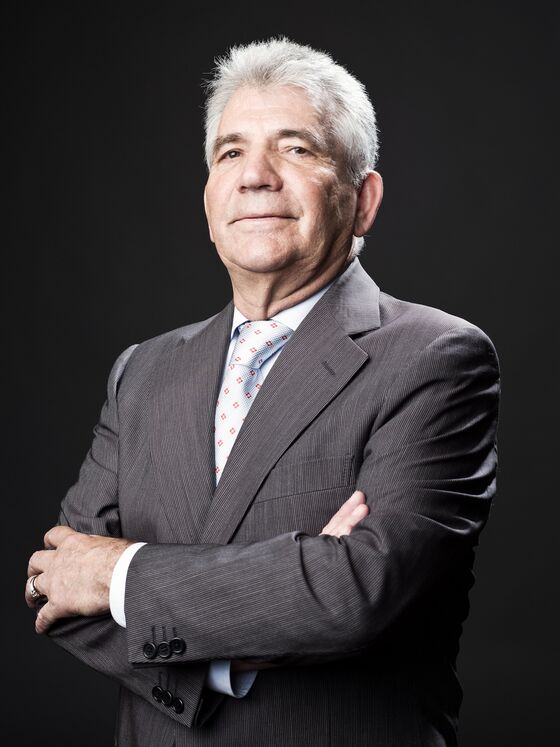 In 2017, only 1 percent of small firms issued bonds, according to the Bank of Portugal. The leverage ratio for small companies dropped to about 62 percent in 2016 from about 70 percent in 2010, according to the central bank.
Fortunato Frederico, owner of shoe manufacturer Kyaia and the Fly London brand, said he never relied on bank loans to grow. His company was founded in 1984 and exports most of its production. "You have to be very patient and very resilient."
In many cases, banks have had to become more selective.
"What's happening is that banks are competing for the SME segment with a better risk profile, while still deleveraging," said Pepa Mori, a senior credit officer at Moody's Investors Service. Total bank loans to companies have declined almost 40 percent since 2011, according to the Bank of Portugal.
Miguel Maya, who's set to become the next CEO of Portuguese lender Banco Comercial Portugues SA, said on May 18 that about a third of non-performing loans are to firms that are doing better now but still can't get new financing because of their risk profile.
For Frederico, when it comes to financing business, it's all about heeding his mother's advice.
"Never spend more than you own so you can sleep well at night," he said.